samedi 14 Avr. 2018 - 20h00
Atelier Marcel Hastir (étage 2)
Thibault Lavrenov, violoncelle, Leon Keuffer, violon, et Virgile van Essche, piano
Au programme
Ludwig van Beethoven : sonate n°8 en Sol majeur pour violon et piano,
Ludwig van Beethoven : sonate n°2 en sol mineur pour violoncelle et piano
Georgyi Sviridov :Piano trio in a minor, op. 6
Virgile Van Essche was born in Brussels in 1992.
After school, Virgile left Belgium in 2010 to enter the prestigious Conservatoire Rimsky-Korsakov, in Saint-Petersburg. – In September 2016, Virgile became a student at the Royal Academy of Music in London where he is currently on the Master of Arts course in chamber music and accompaniment studying with renowned teachers such as Malcolm Martineau, James Baillieu, Audrey Hyland and Michael Dussek.
Virgile regularly performs in the UK, Belgium, France as well as in Russia. He appeared on the stage of Saint-Petersburg's Philharmony, Brussels' Palais des Beaux-Arts and Brussels' Botanique, Cortot Hall at the Ecole Normale Alfred Cortot in Paris, and others. – Virgile very much enjoys rewarding musical partnership with singers and instrumentalists from the UK, Europe, Russia, and overseas. – He speaks English, French and Russian fluently and is proficient in Spanish, German, Italian and Dutch.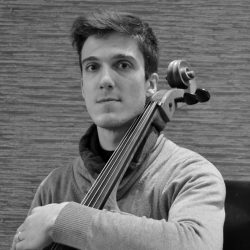 Thibaut Lavrenov
Né à Uccle en 1988, Thibault Lavrenov s'est déjà distingué dans plusieurs concours nationaux et internationaux : Premier prix au 3ème concours international pour violoncelle seul Drohomirecki à Katowice, Premier prix au concours Adrien Servais sponsorisé par le Rotary Club de Gand, Premier prix au concours Jeunes Musiciens. Il est également lauréat de la bourse Horlait-Dapsens.
Il entame ses études à l'âge de 13 ans au Conservatoire Royal de Musique de Bruxelles dans la classe de Marie Hallynck et obtient 5 ans plus tard une licence avec grande distinction en violoncelle et musique de chambre. Il poursuit alors son cursus en Italie dans la classe de Mario Brunello. Parallèlement, il suit les masterclass de N. Gutman, D. Geringas, T. Mork, A. Rudin, F. Guye, J. Reuling.
Il a eu l'occasion de se produire en soliste dans les concertos de Haydn, Dvoràk, Schumann, Elgar, Gulda aux côtés d'orchestres tels que l'Orchestre Philharmonique Royal de Liège, l'Orchestre de Chambre de Wallonie, l'Orchestre de la Chapelle musicale de Tournai, le Brussels Chamber Orchestra, le Vlaams Symphonisch Orkest, la Musique Royale des Guides,…
Il a également enregistré des œuvres d'Eugène Ysaÿe avec l'Orchestre Philharmonique Royal de Liège sous la direction de Jean-Jacques Kantorow, et s'est produit récemment en musique de chambre auprès de Menahem Pressler. Il a eu l'occasion de se produire à Rome lors d'un concert qui était diffusé en direct à la rai3.
Il est actuellement violoncelliste premier soliste à l'Orchestre Philharmonique Royal de Liège, et se produit régulièrement en duo avec le pianiste Xavier Locus.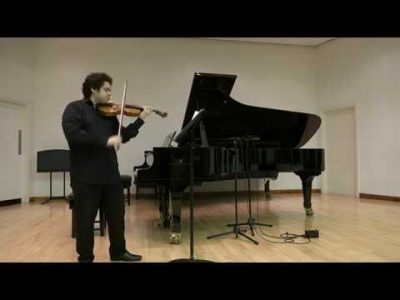 Leon Keuffer
Born in Belem, Brazil in 1995, Leon Keuffer began studying violin at age seven, first with Sandra Hsu and then with his father Paulo Keuffer whilst living in the USA. Between 2006 and 2008 he participated at the Eleazar de Carvalho summer festivals in Fortaleza and the Ex Toto Corde music festival in Sao Paulo. Leon has participated in masterclasses with Shlomo Mintz, Carmelo de los Santos and Peter Zazofsky before moving to Manchester in 2009 to study with Jan Repko at Chetham´s School of Music. Since then, Leon has played in many towns and cities in England. Leon has participated in the Porziano Musica festivals in Assisi (Italy) and in the New Virtuosi Violin Mastercourse in Duino (Italy). Leon won the strings prize from the 2012 Emunah Young Musician of the Year (Royal Academy of Music) and was one of the winners of the Concerto Auditions in Chetham´s in 2012. Leon was also awarded the Giulia Cusciana award in Perugia (Italy).
In both 2010 and 2011 Leon participated in an exchange programme with the Barratt Due institute for Music in Oslo, where he had lessons with Stephan Barratt-Due. In 2013 Leon played for students of Madame Suzanne Gessner and had lessons with her at the Paris Conservatoire. In 2011 Leon toured Brazil with the orchestra of the Vale Musica project. He followed this with a performance of Mendelssohn´s Violin Concerto in E minor with the Todmorden Symphony Orchestra at Todmorden Town Hall in 2012. Leon performed as soloist in Prokofiev´s Violin Concerto No.1 with Chetham´s Symphony Orchestra in February 2013, at the Royal Northern College of Music and in Barber's Violin Concerto with the Chester Philharmonic in March, 2014. As an orchestral player, Leon has played under the direction of conductors such as Bernard Haitink (with the RCM Symphony Orchestra) and Edward Gardner (with the Orion Symphony Orchestra).
In November 2014, Leon Competed at the International Mirecourt Violin competition in Mirecourt, France, for which he was awarded the 4th prize. In March 2015 Leon performed as a soloist in Mendelssohn's Violin Concerto with the Goias Philharmonic Orchestra in Goiania, Brazil, as part of their Concerts for the Youth series, a performance which was widely acclaimed. In 2015, Leon appeared as a soloist with the Crowthorne symphony Orchestra, playing Paganini's Concerto no.1 and in October, Leon was a semifinalist at the Ginette Neveu International Violin Competition in Avignon, France.
Leon was an undergraduate student from the Royal College of Music from 2013-2017, Studying with Jan Repko under a full scholarship award.
Réservations: ci-anprès – Entrée: 15 € – 7 € enfants de moins de 12 ans
Après le concert le verre de l'amitié vous sera offert, en compagnie des artistes
Réservations
Les paiements s'effectuent uniquement en espèces à l'entrée des événements.
Les réservations sont closes pour cet événement.