samedi 05 Déc. 2020 - 20h00
Atelier Marcel Hastir (étage 2)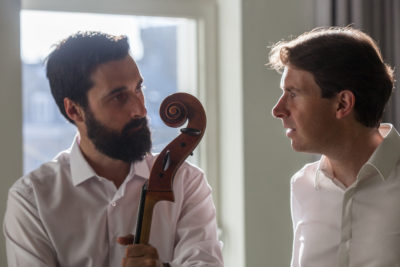 Programme :
'Russian wonders'
D.Chostakovitch : Sonate pour violoncelle et piano op.40
P.I.Tchaikovski : 'Pezzo Capriccioso'
S.Prokofiev : Sonate pour violoncelle et piano op.119
Olsi LEKA
Cellist, born in Tirana, Albania in 1980. He started studying the cello at the age of 6. During his studies, he twice obtained the first prize at the 'Young Virtuosi' competition (junior and senior categories), the first prize at the 'Lions Club Interpretation Competition' in Belgium and the second prize at the 'International Music Competition' in Cyprus.
Aged 24, during his last year of studies at the Royal conservatory of Brussels, he was appointed Cello Soloist – section leader at the Belgian National Orchestra. This allowed him to work with a multitude of conductors and soloists of international renown like Valery Gergiev, Walter Weller, Hugh Wolf, Pinchas Zukerman, Vadim Repin, Misha Maisky, Hélène Grimaud and others.
Since then, he performed in chamber music appearances in numerous countrys and festivals such as 'Schiermonnikoog Festival' in Netherlands, the 'Different trains Festival' in Albania, the 'Gjövig Musicfest' in Norway , the 'Excellent Concerts' in the Netherlands and others.
He performed in recitals with the pianists Daniel Blumenthal, Piet Kuijken, François-René Duchable, Adam Laloum, Liebrecht Vanbeckevoort, Desar Sulejmani and Peter Caelen.
As a soloist, he played with many orchestras the concertos of P.I. Tchaikovsky, A. Dvorak, R. Schumann, E.Lalo, M. Bruch, W. Bargiel. J.Brahms and more. The interpretation of the concerto 'Tout un monde lointain …' by the French composer Henri Dutilleux was another career highlight. After preparation of the oeuvre with the composer in his Parisian Ile Saint-Louis studio, the work was played and recorded live in Brussels in his presence. The composer said it was one of the best interpretations he had ever heard.
In 2007 he was appointed cello Professor at the Royal Conservatory of Antwerp and in 2015 he was appointed cello Professor at the Royal Conservatory of Brussels. He is regularly invited for cello masterclasses in Belgium, the Netherlands, Spain, Lithuania, Latvia, Poland, Romania, Italy France and more.
In recent years, Olsi Leka has devoted himself to the development of personal projects such as recording CDs for various record companies. His last CD "The cello in Madness" is produced by the belgan label Phaedra, presenting a compilation of unknown belgian cello works as well as some virtuosity pieces like the sonata in D of Pietro Locatelli (1695-1764) arranged by the famous cellist Carlo Alfredo Piatti (1822-1901).
He plays an exceptional cello crafted by the Italian violin maker Raffaele Gagliano around 1820, and graciously made available by the Éric Feldbusch Foundation. This cello was donated to Eric Feldbusch in 1965 by Queen Elizabeth of Belgium on the occasion of the creation of the piano trio bearing her name.
Peter CAELEN
Pianist Peter Caelen studied at the Conservatories of Maastricht and Amsterdam with Frans van Beveren, Joop Celis and Willem Brons. He continued his studies with Peter Feuchtwanger in London and Thomas Duis in Saarbrücken. Furthermore he has taken part in masterclasses with musicians such as Peter Donohoe, Lazar Berman, Eugen Indjic, Piotr Paleczny and Jan Michiels.Peter Caelen plays concerts throughout Europe and China at major venues and series such as the Concertgebouw in Amsterdam, De Doelen in Rotterdam, Beijing Concert Hall, the Shandong Grand Theatre Concert Hall in Jinan, Holywell Music Room in Oxford, Brussels Royal Conservatory Main Hall and Concerts de Midi, the Saarbrücker Kammerkonzerte, the Rhein Mosel Halle in Koblenz and Sellosali in Espoo. Furthermore he is also to be heard at festivals such as the the Klevischer Klaviersommer, the Mendelssohn-Tage, the Kamarihelmi Festival, the International Festival Summer in Old Ljubljana Town, the Alba Music Festival and the Euro Chamber Music Festival Gdansk. As a soloist he performed with several orchestras and as a chamber musician he works with numerous musicians such as violinists Simone Lamsma, Esther Yoo, Lisanne Soeterbroek and Hans van Kerckhoven, cellist Olsi Leka, the Carducci and Atrium String Quartets, members of the Royal Concertgebouw Orchestra and the Symphonieorchester des Bayrischen Rundfunks and the wind soloists of the Deutsche Kammerphilharmonie Bremen. In 2017 he toured China performing the complete works for violin and piano by Brahms with violinist Volodja Balzalorsky in thirteen concerts.
Entrée : Adultes: 20 € – Jeunes: 7 €
Après le concert le verre de l'amitié vous sera offert, en compagnie des artistes
Réservations
Les paiements s'effectuent uniquement en espèces à l'entrée des événements.
Les réservations sont closes pour cet événement.