dimanche 08 Jan. 2017 - 17h00
Atelier Marcel Hastir (étage 2)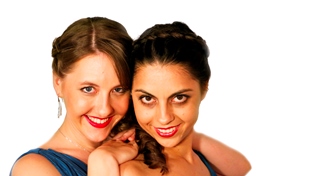 Noémi & Enikő Görög, piano 4 hands
Programme
– W. A. Mozart: Sonata for piano four-hands in C major, K. 521 – Allegro, Andante, Allegretto
– F. Schubert: « Lebensstürme » D.947, for piano four-hands
– Samuel Barber: Souvenirs op. 28
1.Waltz – 2. Schottische – 3. Pas de deux – 4.Two-Step – 5. Hesitation-Tango – 6. Galop
– A. Dvořák: Slavonic Dance op. 72, No. 2
– J. Brahms: Hungarian Dance no. 6
– A. Vujić: Serbian Kolo (folk dance)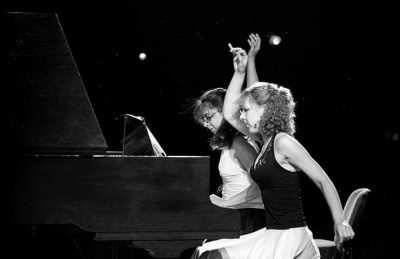 Photo: Érdi-Harmos Réka
The Görög Sisters piano duo was formed spontaneously given the fact that both sisters in the family played piano. The backdrop to this duo's musical beginnings is the Görög family's deep love for the music and the sisters' affection for each other. At first playing the piano was no more for them than having fun. Noémi, the older sister was eight years old when she started playing, but as younger sisters often do, Enikő, aged only four at that time, immediately started copying her older sibling. This was the start of what was to be a lifelong joint career in music. Soon Noémi was teaching her sister all the skills she had learned in her piano classes at the music school, with Enikő faithfully repeating everything she was shown. Following the sisters' first stage appearances the duo received great positive feedback, both from the general public as well as from professional critics. All reactions have had one thing in common: when the two sisters play, they communicate perfectly with each other through music, creating a unique and amazing combination of two completely different musical personalities.
"The pianists earned my appreciation with their delicate accenting in the Brahms dance, the perfectly matched tempo, and with their deep interpretation of the Argentinean composer's piece. The prima voice player virtually jumped up from the keyboard. Undoubtedly it is a lucky combination for siblings to start playing duets, especially given the need for harmony-just think of the Labèque sisters." Máté Csabai, Fidelio 2015
Given that both sisters studied in Belgrade at the University of Arts, Faculty of Music in the class of Professor Ninoslav Živković, the duo has continued their cooperation appreciating his mentorship for years.
Piano duo – Prizes
The Görög Sisters piano duo was the prize-winner of various competitions in Belgrade, Serbia ("Republic competition" 2000. – I, special prize, "Petar Konjović" International Piano-duo Competition 2001. – III prize, "Davorin Jenko" International Piano-duo Competition 2008. – I, special prize), Turin ("Young Pianists International Competition", 1999. – I, special prize) and Rome, Italy ("Young Pianists International Competition", 2002. – III prize), Oslo, Norway (Grieg competition, 2010. – III prize, and a special award for the Bartók piece), Pörtschach, Austria (International Johannes Brahms Competition, 2016- II prize)
The piano duo attended master-classes held by Arbo Valdma, Márta Gulyás, Imre Rohmann, Luis Fernando Perez and Jacques Rouvier, Tami Kanazawa and Yuval Admoni.
The sisters have held concerts in Serbia, Hungary, Slovakia, Italy, Norway, Romania, France, Austria and the USA .
They have recorded music for various radio and television studios including: Pannon RTV (Subotica), RTV (Novi Sad) in Serbia, MTV1 (Budapest), Duna TV (Budapest), MR3-Bartók Rádió (Budapest) in Hungary and Radio Vaticana (Rome) in Italy.
In 2015 the Görög Sisters piano duo recorded their first CD in Belgrade in the great hall of Zadužbina Ilije M. Kolarca with Studio R88, Belgrade. The CD contains pieces by Wolfgang Amadeus Mozart, Camille Saint-Saëns, Béla Bartók and Witold Lutoslawski.
————————-
Réservations recommandées: nairagloria@gmail.com – Entrée : 12 € (6 € enfants de moins de 12 ans)
Réservations
Les paiements s'effectuent uniquement en espèces à l'entrée des événements.
Les réservations sont closes pour cet événement.