samedi 09 Nov. 2019 - 20h00
Atelier Marcel Hastir (étage 1)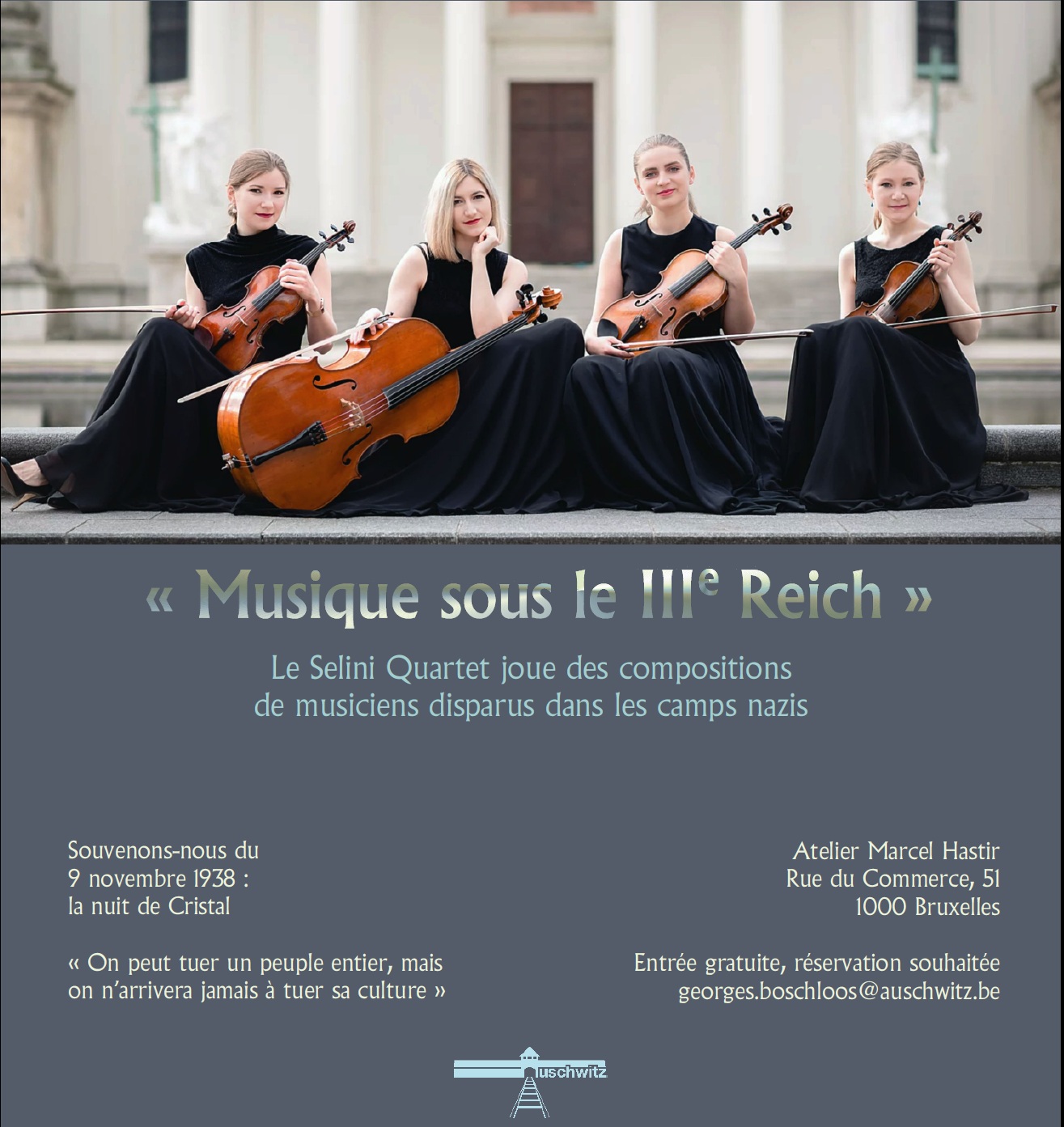 Entrée gratuite – Réservation souhaitée : georges.boschloos@auschwitz.be
Selini Quartet
https://www.seliniquartet.com/copia-de-about-us-1 ​
Au programme
Erwin Schulhoff: 5 pièces
Viktor Ullmann: Quatuor n°3
Julius Bürger: Quatour à cordes
Mark Armanini: 2 pièces
Selini Quartet, winners of the "Szymanowski International Music Competition" 2018 (Poland)- 2nd prize, was founded in Vienna in 2016.
Eventhough they have been in action for only two years, their dedication and passion has led them to perform in some of Vienna's major concert venues such as Vienna Musikverein, Vienna Konzerthaus, Schuberthaus, ORF RadioKulturhaus, Burgtheater, Hofburg, NOSPR Hall (Poland). Abroad, they have appeared in countries like Germany, the UK, Greece, Switzerland, France, Portugal, Czech Republic and Poland.
Their recent performances have included appearances at the "Prague Clarinet Days" Festival, the "Steirisches Kammermusikfestival" in Graz, the « Harmos Festival » in Porto and at the "Aegina International Music Festival". Performing a wide range of repertoire has also led them to a collaboration with Wien Modern Festival.
In August 2018 the Selini Quartet has been awarded the "Artis Quartet Prize" of ISA Competition (Austria), which let to them performing at the ORF RadioKulturhaus, and a recording for the Austrian national radio.
Nadia Kalmykova, Violine (Russia) – Ljuba Kalmykova, Violine (Russia) – Loredana Apetrei, Viola (Romania)
– Loukia Loulaki, Violoncello (Greece)
They have been invited to participate in many prestigious projects including ECMA (European Chamber Music Academy), Musethica, Le Dimore del Cuartetto and the Quatuor Diotima's Academy. During which they were inspired by artists such as Hatto Beyerle (Alban Berg Quartet), Evgenia Epstein (Aviv Quartet), Stephan Picard, Patrick Judt, Peter Schumayer (Artis Quartet), Peter Nagy, Pavel Vernikov, Vadim Gluzman, Leonhard Roczek (Minetti Quartet), Diotima Quartet, Vida Vujic and more.
Selini Quartet is currently studying for a Master of Chamber Music with Prof. Johannes Meissl at the University of Music and Performing Arts in Vienna.
They have been chosen as one of the four quartets to participate in the Chamber Music Residency program of « Festival d'Aix-en-Provence » 2019.
Upcoming projects include among others concerts in Italy, Norway, France and concert halls such as Muth Concert Hall (Vienna) and in Pölz Hall (Amstetten, Austria). – The Selini quartet is thankful for the support of "Goh Family Collection".
Entrée gratuite – Réservation souhaitée : georges.boschloos@auschwitz.be
VZW Auschwitz in Gedachtenis – Stichting Auschwitz
ASBL Mémoire d'Auschwitz – Fondation Auschwitz
Rue aux Laines 17 bte 50 – Wolstraat 17/Bus 50
Bruxelles 1000 Brussel
Tel: 02/5127998
Fax: 02/5125884
www.auschwitz.be