vendredi 15 Mar. 2019 - 20h00
Atelier Marcel Hastir (étage 2)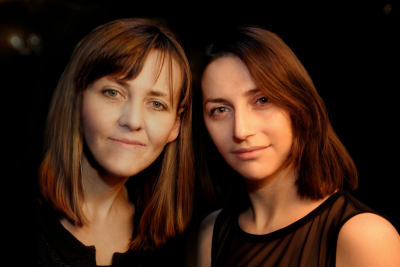 Agata Górska-Kolodziejska & Anna Liszewska
« Forgotten Polish Piano Music for Four Hands »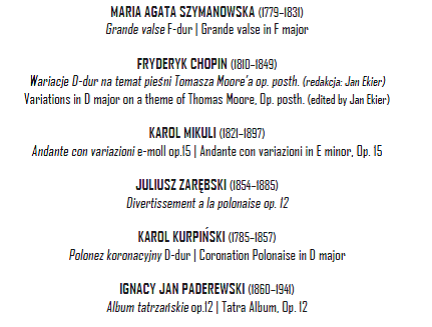 The MARIA SZYMANOWSKA PIANO DUO was founded by Agata Górska-Kołodziejska and Anna Liszewska in 2013. Their central idea is to promote Polish music and works by lesser-known composers whose output is gradually falling into oblivion. The repertoire of the duo is constantly being expanded to include less popular and virtually forgotten compositions (pieces by Niels Gade and Cécile Chaminade), as well as the world canon of chamber piano works for four hands. The members of the duo have created an interesting project of presenting transcriptions of the most popular works of the symphonic and operatic repertoire including Mozart's Eine kleine Nachtmusik, Tchaikovsky's The Nutcracker, Bizet's Carmen, Grieg's Peer Gynt and Vivaldi's Four Seasons.
Polish music occupies a particularly important place in the duo's repertoire. Guided by the aim of popularising works by Polish composers and their respect for the national musical heritage, the duo has studied a vast piano literature for four hands and has selected for recording pieces by Maria Szymanowska, Karol Kurpiński, Fryderyk Chopin, Karol Mikuli, Juliusz Zarębski and Ignacy Jan Paderewski.
The duo's name – Maria Szymanowska Piano Duo – refers to the first joint arrangement of a work for four hands (Maria Szymanowska's Grande Valse). In addition to highlighting the pianists' special affection for Polish music, the name points to the presence and creative role of women, both pianists and composers, in the history of music, particularly in chamber piano music.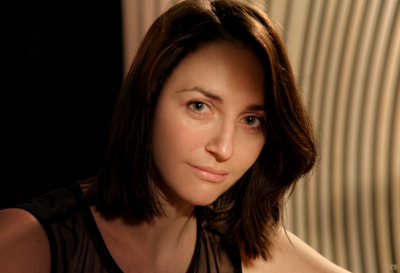 Agata GÓRSKA-KOŁODZIEJSKA graduated from the Grażyna and Kiejstut Bacewicz Music Academy in Łódź in 2003, gaining a diploma with distinction in the piano class of Professor Maria Korecka-Soszkowska. She also studied chamber music performance with Professor Krystyna Hussar-Moczulska. In 2005 she finished her postgraduate master studies in piano performance under the guidance of Maria Korecka-Soszkowska. In 2004 she joined the faculty of her alma mater. In 2011 she gained a doctorate in music from the Music Academy in Kraków.
Agata Górska-Kołodziejska's honours include Second Prize at the International Piano Competition in Lithuania (2012) and Third Prize at the International Piano Competition for Young Performers in Helsingør, Denmark (2001), as well as awards and honourable mentions for best accompanist at the 9th Halina Słoniowska Vocal Competition in Duszniki-Zdrój (2008), the 5th Halina Halska Vocal Competition in Wrocław (International Edition, 2009), and the 11th Intercollegiate Vocal Competition 'In the circle of Slavonic vocal music' in Katowice (2009).
She performs regularly both as a soloist and chamber musician, including a series of concerts 'Music at the Łodź University of Technology' and the 1st Łódź Festival of Science and the Arts (the concert hall of the city's Artur Rubinstein Phihlharmonic). She has given concerts in numerous venues in Łódź (City Museum, Herbst Palace, Biedermann Palace, the Polish Academy of Sciences), the Museum of Manor House Interiors in Tubądzin, the Palace in Sanniki, the Castle in Oporów, the Museum of Pabianice and Wrocław Opera. She has also performed in Warsaw and its environs (the 'Musical Floralia – Music in Flowers' International Piano Festival in the Botanical Gardens in Powsin nr Warsaw, the Chopin Institute, Chopin's birthplace manor in Żelazowa Wola). Foreign tours have taken her to Belgium, Bulgaria, Lithuania and Tunisia. She was a member of the jury of the International Piano Competition in Tunis (2013) and gave masterclasses for Tunisian students in Hammamet (2013). She also worked closely with the prominent soprano, Professor Teresa Żylis-Gara, during the masterclasses in Radziejowice.
Her repertoire spans music from the Baroque to the present, with a special focus on early-R omantic Polish music and Chopin. She specializes in the performance of solo music and music for four hands, as well as an accompanist in song recitals.
She is the author of The Style Brillant in Early-Romantic Polish Music (Łódzkie Towarzystwo Naukowe, 2012). Her recordings include a selection of songs by Claude Debussy (with Beata Zawadzka-Kłos), Mikołaj Čiurlionis's solo piano miniatures (Łódź Music Academy Edition, 2013), a sonata by Domenico Scarlatti (for Polish Radio, 2004) and songs by Andrzej Hundziak with words by Halina Poświatowska (premiere recording, with Beata Zawadzka-Kłos).
Since 2012 she has served as Deputy Dean of the Department of Voice and Drama at the Grażyna and Kiejstut Bacewicz Music Academy in Łódź.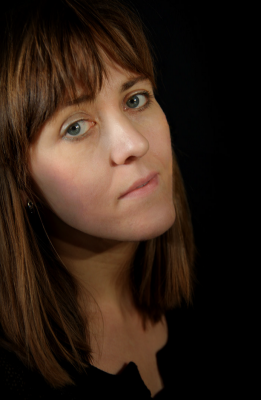 Anna LISZEWSKA studied with Lidia Kozubek at the Fryderyk Chopin Academy of Music in Warsaw, gaining a diploma in 1995. In 1998 she completed two-year postgraduate studies in chamber music at her alma mater under the guidance of Barbara Halska. She developed her stills at masterclasses given by John Owings (Warsaw, 1993) and Andrzej Jasiński (Wrocław, 1993). Her diploma dissertation 'Józef Hofmann as a teacher' has been published in the Research Bulletin of the Faculty of Musical Education of the Music Academy in Warsaw (No. 30, 1996).
In 1998–1999 she worked closely with the Polish Radio Symphony Orchestra, participating in many concerts and recordings, as well as in a tour of Germany (performing the piano part in Witold Lutosławski's Concerto for Orchestra, with Wojciech Rajski conducting). She has appeared as the soloist in Mozart's Concertos 14in B flat major KV 595 and A major KV 414 with Polish Camerata under Marek Głowacki. She also appears regularly as an accompanist in a stylistically diverse repertoire, with both singers and instrumentalists.
She has been an accompanist at numerous song and opera competitions, including the Intercollegiate Competition in the Performance of Polish Artistic Song in Warsaw (2001, 2010), the Halina Halska National Vocal Competition in Wrocław (2003, 2005), the Halina Słoniowska National Vocal Competition in Duszniki-Zdrój (2002, 2008), Neue Stimme International Competition in Dresden (2007), the 2nd Adam Didur International Opera Competition in Bytom (2008), the 1st European Competition for Tenors in Sosnowiec (2009), the 13th Ada Sari International Vocal Competition in Nowy Sącz (2009) and the 7th Stanisław Moniuszko International Vocal Competition in Warsaw (2010).
The singers whom she has accompanied have won numerous awards and honourable mentions, among them Bernardetta Grabias, Piotr Hruszwicki, Szymon Komasa and Aleksander Jan Zuchowicz. She has received honourable mentions for best accompanist at the 2nd Halina Halska National Vocal Competition in Wrocław (2003) and the 4th Krystyna Jamroz National Vocal Competition in Kielce (2010). She has been invited on many ocassions to work as accompanist at the summer courses in musical interpretation in Nowy Sącz (1998–2001, 2007).
Having joined the faculty of the Music Academy in Łódź in 1999, she worked, until 2010, as accompanist at the Department of Voice and Drama in the classes of Delfina Ambroziak, Urszula Kryger, Zdzisława Krzywicki, Leonard Andrzej Mróz and Włodzimierz Zalewski, as well as in the viola class of Zbigniew Frieman, the cello class of Agata Jarecka and the flute class of Antoni Wierzbiński.
She has a special interest in the music of Slavonic composers. She gained a doctorate in the arts from the Music Academy in Łódź for her dissertation "Folklore as an inspiration for the music of selected Slavonic composers of the 19th and 20th centuries".
Her debut CD, entitled 'Entuzjasta', is also devoted to Slavonic music. It features a selection of songs, ballads and piano works by Stanisław Moniuszko recorded with the young singer Piotr Hruszwicki (2013). In 2016 she took part in the recording of chamber works by Franz Xavier Mozart, the youngest son of Wolfgang Amadeus Mozart, known as 'Lviv's Mozart', (DUX 1317, with Ewelina Zawiślak – flute, Agnieszka Kołodziej – cello and Łukasz Błaszczyk – violin).
In addition to developing her artistic career, Anna Liszewska is also active as a teacher. She has directed a piano class at the Henryk Wieniawski Primary and Secondary Music Schools in Łódź since 1995. She is also on the faculty of the Music Academy in Łódź, lecturing at the Department of Piano, Organ, Harpsichord and Period Instruments of the Music Academy in Łódź. She currently serves as the Department's Deputy Dean.
Rés.: https://ateliermarcelhastir.eu/agenda/ – Entrée: 15 € – 7 € (enfants de moins de 12 ans)
Après le concert le verre de l'amitié vous sera offert, en compagnie des artistes
Réservations
Les paiements s'effectuent uniquement en espèces à l'entrée des événements.
Les réservations sont closes pour cet événement.