dimanche 22 Mai. 2022 - 19h30
Atelier Marcel Hastir (étage 2)
Avec PROJECT EARTH le « Trio Iris » répond par la musique, conjuguée avec la poésie du poète Don McKay, à la grave crise à laquelle est actuellement confrontée notre planète.
Au programme
"Bird Island Suite," du compositeur et pianiste de jazz Florian Hoefner – poèmes de Don McKay (les textes seront disponibles)
"Our Material Selves" de Florian Hoefner – poèmes de Don McKay (les textes seront disponibles)
_______________
Extraits des « Huit Pièces », Op.83 (1910) de Max Bruch:
III. Andante con moto
IV. Allegro agitato
VI. Nachtgesang
VIII. Moderato
PROJECT EARTH is our response to the enormous crisis currently facing our planet. Through chamber music and poetry, we strive to illuminate the impact of human behavior on the environment, addressing issues of climate change, pollution, habitat degradation, and biodiversity loss. Equally important, we give center stage to the immense beauty and wonder found in nature. We recognize the power of our collective imagination and the need to inspire a shared sense of value and responsibility if we are to create meaningful change around these complex issues.
PROJECT EARTH is a multi-year endeavor, encompassing three distinct chapters – the Blue, Green, and White Chapters. We premiered the first half of the BLUE CHAPTER in 2019, featuring "Bird Island Suite," by Canadian composer and jazz pianist Florian Hoefner and Griffin Prize-winning poet Don McKay. This work explores the sensitive ecosystems found on bird islands around the world and the impact of human activity on these endangered sites. A second piece, "Our Material Selves," by the same creative duo is now in progress to complete the BLUE CHAPTER. This work addresses our lives as material beings, juxtaposing our hunger for some form of immortality with the substances we manufacture that approximate this dubious condition – for example, plastics.
Project Background
Our planet Earth is at a tipping point. Never before in human history has our global home faced this rate of deterioration and species loss. A full 75% of ecosystems on land and 66% of marine ecosystems have been "severely altered" by human behavior. "We are eroding the very foundations of our economies, livelihoods, food security, health and quality of life worldwide" (Sir Robert Watson, IPBES Chair).
The problems are complex and the size of the threat we face is not matched by a similarly sized investment in solutions. The sheer magnitude of the problem and protracted timeline for both threats and solutions make the situation challenging to grasp.
This has been a call to action for us as artists. The role of storytelling and illuminating "place" has never been more important. For people to come on board with the creative solutions necessary to save our planet, we must connect through our imagination, shared emotional experience, and the direct impact of this crisis on the things we cherish. Numbers are not enough. And a complete doomsday picture will not be effective either. Hope is necessary for humans to take action. And there is hope. The IPBES makes it clear that "nature can still be conserved, restored and used sustainably," but a "fundamental, system-wide reorganization across technological, economic and social factors" is necessary, "including paradigms, goals, and values."
Earth is THE project of our times. With PROJECT EARTH, we strive to inspire the shared values needed for transformational change. Through music and poetry, we are able to zoom in on tangible high-impact stories, while simultaneously illuminating the beauty we are at risk of losing if nothing changes.
​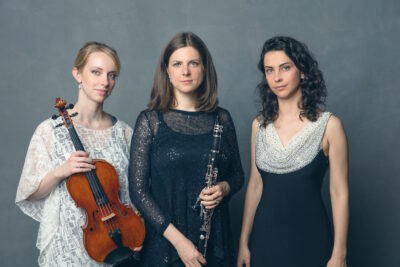 Iris Trio
Praised for their "beauty of sound and striking expression" (Bremen Weser Kurier), the Iris Trio (clarinetist Christine Carter, violist Molly Carr, and pianist Anna Petrova) is known for their imaginative programming and powerhouse performances. Their 2013 debut at the German Consulate in New York City was met by a sold-out audience and followed by an immediate invitation to the prestigious Mozartfest in Würzburg, Germany. The Trio subsequently gave the world premiere of Christof Weiß's Conversation Among Friends at the UNESCO World Cultural Heritage Residence Palace and were featured in Michael Wende & Andreea Varga's documentary, MozartLabor. They have since appeared at venues throughout North America and Europe, including a tour of their program, Homage and Inspiration, across Germany. Their debut album by the same name, recorded at the Sendesaal in Bremen Germany, was released in 2020 on Coviello Classics to international acclaim. The Canadian Broadcasting Company selected it as one of "10 upcoming Canadian classical albums to get excited about," Fanfare Magazine praised it as "a five-star, real stand-out release," and Classical-Modern Music Review commented, "these are extraordinarily, mutually attuned practitioners that deserve our acclaim."
The Iris Trio's recent engagements include residencies at both the University of Louisville in the US and Memorial University in Canada, concert tours in Canada and Europe, and the launch of Project Earth – a multi-chapter interdisciplinary project reflecting on our complex relationship with nature. The members of the Iris Trio hold faculty positions at the Juilliard School, Bard College Conservatory of Music, University of Louisville, and Memorial University, and have performed around the world on major concert stages from Lincoln Center and Carnegie Hall to the Amsterdam Concertgebouw and Sydney Opera House.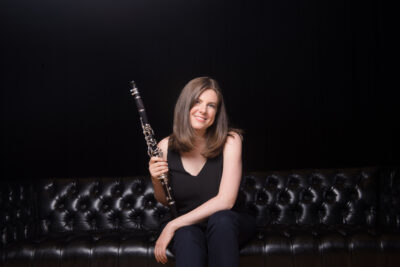 Christine Carter – clarinet
Canadian clarinetist Christine Carter has performed at venues across the globe, from Carnegie Hall to the Sydney Opera House. Highlights have included performances at the Mozarthaus in Vienna, German Consulate in New York City, and Palffy Palace in Prague. She has completed artist residencies at the Mozart Festival Würzburg (Germany), Málaga Clásica Festival (Spain), Shenzhen International Woodwind Festival (China), and six seasons with the Dark by Five inter-arts ensemble at Gros Morne Summer Music in Newfoundland. Christine frequently collaborates with Duo Concertante, including two CD releases on Marquis Classics, and is the clarinetist of the critically acclaimed Iris Trio. She has been praised for her "special passion and inspiration" (Augsburger Allgemeine), "seductive tone and effortless fluidity" (The Clarinet), and "golden legato" (Fanfare Magazine). Christine has also performed extensively as an orchestral musician, including engagements with the New World Symphony (Miami), Montreal Symphony Orchestra, Newfoundland Symphony Orchestra, YouTube Symphony Orchestra, and Metropolitan Opera Orchestra (New York), as well as under the batons of some of the world's finest conductors, such as Lorin Maazel, Michael Tilson Thomas, Kent Nagano, and Fabio Luisi. She holds a Doctor of Musical Arts from Manhattan School of Music and is Associate Professor of Music at Memorial University in St. John's. Christine is a Buffet Crampon Artist.

Molly Carr – viola
Praised for her « intoxicating" (New York Times), "ravishing » (STRAD) performances and « passionate talent with beautiful poise » (AVS), violist Molly Carr enjoys a diverse musical career as recitalist, chamber musician, educator and artistic director. She has been the recipient of numerous international awards, including from the Primrose International Viola Competition, Chamber Music America, ProMusicis Foundation, and the Davidson Institute – and was honored in 2018 at the United Nations for her work with refugees around the globe through the Novel Voices Refugee Aid Project. Her performances have taken her across North America, Europe, the Middle East, and Asia and been featured in the New York Times, Forbes, and The Wall Street Journal, as well as on PBS, CNN, NPR, and BBC World News. Molly is the Founding Director of the award-winning organization Project: Music Heals Us, a non-profit which brings free chamber music performances and interactive programming to marginalized populations with limited ability to access the Arts themselves. She serves on the faculties of Bard College Conservatory of Music, The Juilliard School's Precollege Division, and Musical Arts Madrid.

Anna Petrova – piano
Bulgarian pianist, Anna Petrova, praised for her "artistic, clear and enlightened" performances (BBC Magazine), performs extensively as a soloist and chamber musician and is Assistant Professor of Piano at University of Louisville, Kentucky. She is a top prize winner of numerous international competitions, including the First Prize winner of the Jose Roca International Competition, Spain and a semi-finalist of the Queen Elizabeth Piano Competition. Recent highlights include her New York debut with conductor Philippe Entremont, a recording of Stravinsky's Les Noces with the Virginia Symphony Orchestra and conductor JoAnn Falletta (NAXOS, 2016), and solo and chamber music residencies in festivals across North America, Europe and China. Currently, she is working on a two-CD set of the complete piano sonatas of Russian composer, pianist and pedagogue, Samuil Feinberg for NAXOS. Petrova holds a Doctor of Musical Arts degree from Manhattan School of Music and is the Artistic Director of Aberto Jonás International School of Music in Valencia, Spain.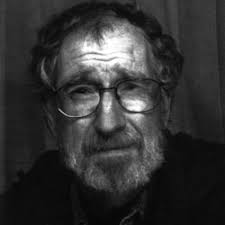 Don McKay – Poet
Originally from Cornwall, Ontario, the highly celebrated poet Don McKay has released twelve books of poetry and four books of essays. He was won numerous awards, including two Governor General's Awards (in 1991 for Nightfield, and in 2000 for Another Gravity), and the 2007 Griffin Poetry Prize for Strike/Slip (an award for which Another Gravity had also been shortlisted).
McKay was awarded the Order of Canada in 2008 and his collection, Paradoxies won the Canadian Author's Association for Poetry Prize in 2013. He currently resides in St. John's, Newfoundland and Labrador.

Florian Hoefler – Composer
Born and raised in Germany, trained in New York City and now based in Canada, Juno-nominated jazz pianist and composer, Florian Hoefner, draws from a myriad of influences that culminate in his unique brand of modern jazz. Praised as a "composer-bandleader of insightful resolve" by the New York Times , Florian Hoefner has made his mark as an inventive creator and performer of exciting contemporary jazz.
His latest release "First Spring" with his Canadian trio with Andrew Downing on bass and Nick Fraser on drums has received 2 East Coast Music Awards 2020 and is currently nominated for the Canadian national music award, JUNO. As a touring artist he has played venues and festivals on 5 different continents and has worked with artists including Kurt Rosenwinkel and Seamus Blake. He is the winner of 2 ASCAP Young Jazz Composer Awards and the Stingray Rising Star Award at the Montreal Jazz Festival. Florian currently serves as Assistant Professor for Jazz Studies at Memorial University in St. John's, NL.
https://florian-hoefner.com
Réservations ci-après – Entrée: 20 € – 10 € (étudiants et enfants de moins de 12 ans)
Réservations
Les paiements s'effectuent uniquement en espèces à l'entrée des événements.
Les réservations sont closes pour cet événement.