samedi 14 Mar. 2020 - 20h00
Atelier Marcel Hastir (étage 2)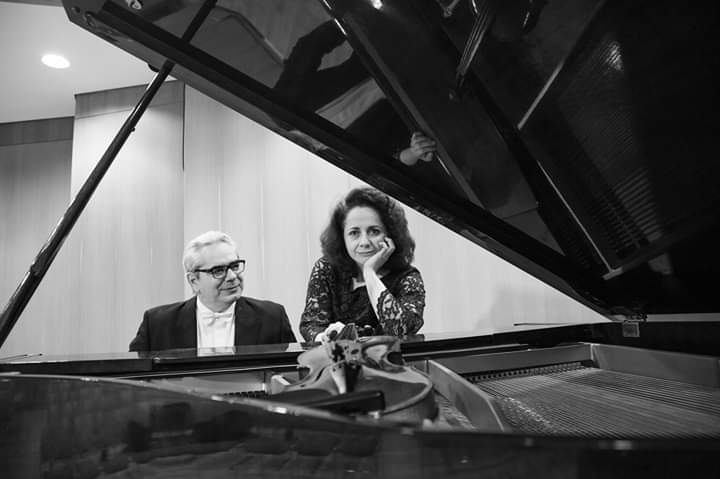 PROGRAMME
Beethoven – Sonate en re majeur op. 12 nº 1 pour Piano et Violon : Allegro con brio – Tema con Variazioni – Andante con moto – Rondo, Allegro
George Dousis – « Three Portraits » pour Violon et Piano (2019) : Hommage to D.D. – Loving Gustav – Everlasting Ec(h)o
Pause
Manos Hadjidakis – Ionian Suite op. 7 pour Piano (1952-53) : Introduction – Sarabande – Scherzo – Song – Dance
Grieg: Sonate en do mineur op. 45 pour Violon et Piano : 1. Allegro molto ed appassionato – Tempo I. molto animato – Presto
2. Allegretto espressivo alla Romanza – Allegro molto – 3. Allegro animato – Cantabile – Prestissimo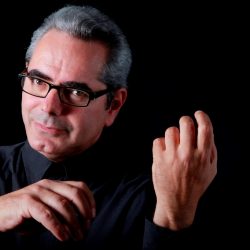 Dimitri Semsis, violon
Dimitri Semsis was born in Munich in 1959. Since the beginning of the 19th century, there has been a tradition in his family to mark out talented violinists in every generation. His preliminary musical education was completed under the guidance of his father Michalis Semsis. He continued with advanced violin studies in the classes of Tibor Varga and Otto Buechner in Detmold and Munich Music Academies as well as in the Belgrade University of Music near Alexander Pavlovic.
He is holding a performer's diploma from "Athineon" conservatory of Athens and he is Associate of the Royal College of Music of London (ARCM). – He has been a member of the famous "Bach Orchester" under Carl Richter for two years. – His artistic activities have expanded in various directions: solo, chamber music, orchestral leading, orchestral conducting and teaching. He has performed in many concert halls all over Greece as well as abroad (France, Swiss, Italy, Turkey, Ukraine, Serbia, Great Britain, Germany, Bulgaria, Austria, USA and Rumania) both as a soloist and as a principal musician participating in different chamber ensembles. – He is a founder member of the "OPUS I" piano trio with which he concretizes often all over Greece. –
His great interest for young people has been expressed by many special concerts for children all over Greece and with programs that include lectures and seminars, open lessons and discussions about musical understanding and appreciation as well as introduction for very young children to music. – As a concertmaster he has led the "Camerata Hellenica Orchestra" for over ten years. Furthermore for six years he has been the principal leader of the "Camerata, Friends of Music Orchestra", the permanent in-house chamber orchestra of the Athens Megaron, concertmaster for four years of the National Symphony Orchestra of the Greek Radio and Television and since October 2003 he is the concertmaster of the Athens State Orchestra, the country's oldest and most prominent symphonic institution.
Since 2000 he is the director and conductor of the "Camerata junior" string orchestra, the youth orchestra of the "Friends of Music Society" in Athens. – Dimitri Semsis plays a violin by Lorenzo Storioni – Cremona 1794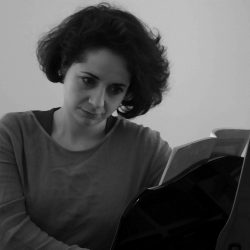 Dimitra Mantzouratou, piano
Dimitra Mantzouratou was born in Athens, Greece. She started her studies at the Hellenic Conservatory in Athens and obtained her piano diploma with the highest distinction. During that time she followed theoretical studies and obtained the harmony, counterpoint and finally the fugue degree with distinction.
For three years she studied piano at the Royal Flemish Conservatory of Brussels (class of Daniel Blumenthal) with a scholarship of the State Scholarships Foundation of Greece (I.K.Y.) and received the Master's degree. She holds a degree and a PhD in Musicology from the National University of Athens.
She has followed many masterclasses (with P. Badura – Skoda, B. Ringeissen, M. Tirimo etc.) and participated twice in the Mozarteum summer courses in Salzburg (class of S. Dorensky and J. Lateiner). – She teaches piano at the Ilion Music School of Athens.
She has premiered many solo and chamber music works by Greek composers.
Réservations
Les paiements s'effectuent uniquement en espèces à l'entrée des événements.
Les réservations sont closes pour cet événement.