vendredi 16 Mar. 2018 - 20h00
Atelier Marcel Hastir (étage 2)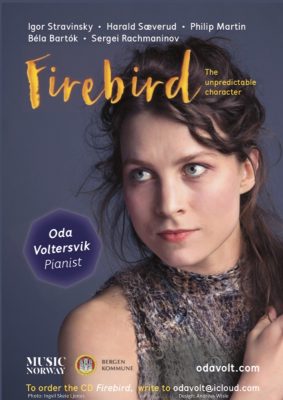 Oda Voltersvik, piano
Œuvres de Igor Stravinsky, Harald Svaerud, Philip Martin, Béla Bartók & Sergei Rachmaninov
Oda Hjertine Voltersvik – Biography
The Norwegian pianist has been considered by the renown conductor Marios Papadopoulos as a "pianist with great sensitivity and lovely tone" and by pianist Gabriele Baldocci "a musician with a wonderful control of the instrument and innate sense of music."
Oda has given recitals at important international venues including "Palermo Classica" International Festival, Leipzig Town Hall, the 1st International Folk Music Festival in Beijing; concert societies throughout the UK such as Powderham Castle 'New Generation Artist Series', the Edinburgh Society of Musicians, Fitzwilliam Museum in Cambridge and Jacqueline du Pré Concert Hall in Oxford. Venues in London include Wigmore Hall, St Martin in the Fields, St James` s Piccadilly, Charlton House, Blackheath Halls and Regent Hall.
Her concert engagements in Norway include annual recitals for a week as Artist in Residence at Edvard Grieg's home/museum in Bergen (2014- 2017), Stavanger Cathedral, Lofoten Cathedral, opening concert during the Grieg Jubilee (2007), performances with the Norwegian National Broadcasting, regular concerts for the Bergen Chamber Music Society and the Grieg in Bergen Series with solo performances and chamber music (since 2010). She has performed concertos with the Sinfonietta of Athens and been invited twice to perform with the Norwegian–Polish Youth Orchestra.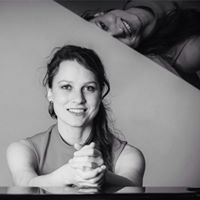 In April 2016, her debut CD "Khoreia" was recorded in collaboration with the Italian pianist Giulio Potenza (Volt&Potenza Duo) for the label Velut Luna. Italian Magazine Corriere Musicale 's review (October 2016): "The duo has a great amalgam, the sound is always defined, and playing styles are well differentiated between the various periods. Their interpretative choices are never predictable"
As part of the Volt&Potenza Duo, she is a 1st prize winner of the Buono&Bradshaw competition, with invitation to perform at Carnegie Hall, May 2017. In 2016 Oda was a finalist in the Trinity Laban Soloist Competition (London) and in the Jaques Samuels Intercollegiate Competition (London, Wigmore Hall).
Oda is project leader of the Volt Ensemble, founded in collaboration with young talented musicians from Scandinavia holding postgraduate degrees from outstanding international universities such as Julliard School of Music and Manhattan School (New York), and Royal College of Music (London). In 2017, the ensemble has a concert tour in London and Norway, named MiM5 (Music in Movement 5).
She holds a Master in Performance from the Royal College of Music and an Artist Diploma from Trinity Laban Conservatoire for Music and Dance with distinction (London).
From 2006 to 2014, Oda has participated at the annual Oxford Philharmonic Orchestra's Piano Festival and Summer Academy, where she has been playing in master classes for renown pianists such as Menahem Pressler, Gary Graffmann and Vladimir Krainev.
From 2005 to 2008, Oda has been selected for the `Young Musicians Talent Programme` at the Grieg Academy, University of Bergen, and was awarded prizes at the Norwegian National Youth Competition. From 2009 to 2016, she has taken part in the Jiri Hlinka Grand Piano Academy (Bergen).
Upcoming events include Carnegie Hall, Lofoten Cathedral North of Norway, Cicero Theatre of Cefalu, Sicily, "Palermo Classica" International Festival, Theatre of Mazara del Vallo, Sicily, Ravello Festival, Amalfi Coast, and several chamber music societies in UK and Norway. She will record her solo debut CD for the KNS classical label in Barcelona at the end of 2017.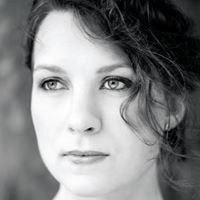 Oda Hjertine Voltersvik – (website at odavolt.com CD Firebird)
"A pianist with great sensitivity and lovely tone" ( Marios Papadopoulos, director of the Oxford Philharmonic Orchestra).
"A musician with a wonderful control of the instrument and innate sense of the music." (professor Gabriele Baldocci)
« Oda Voltersvik is one of Norway`s promising young pianists. She is professional artist, and it is always a pleasure to work with her » (Sigurd Sandmo, Edvard Grieg Museum Norway)
 » Her performances are always original, and bring unique colour and
interpretation to her chosen works. EGK would like to recommend her, not only as an artist of the highest level, but also as a trusted and generous colleague. » (Simon Kirkbride, director EGK – Edvard Grieg Kor, March 2017)
Après le concert le verre de l'amitié vous sera offert, en compagnie des artistes
Réservations ci-après ou * contact@deepbluesky.be ( 0498-962681 ) – Facebook : https://www.facebook.com/deepbluesky.be/
Entrée: 15 € (10 € étudiants/stagiaires)
Réservations
Les paiements s'effectuent uniquement en espèces à l'entrée des événements.
Les réservations sont closes pour cet événement.