dimanche 11 Oct. 2020 - 18h30
Atelier Marcel Hastir (étage 2)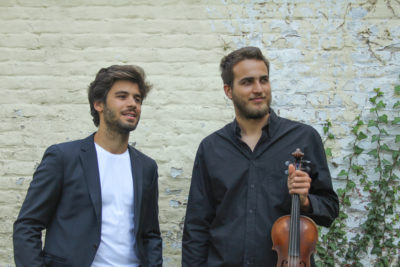 Récital dédié à la musique de Beethoven pour Piano et Violon,dans le cadre des commémorations des 250 ans du compositeur!
Ludwig van Beethoven, 1770 -1827
Sonate pour piano et violon op. 24, 'Le Printemps'
Allegro
Adagio molto espressivo
Scherzo: Allegro molto
Rondo: Allegro ma non troppo
Sonata pour piano et violon op 30, no 2, en Do mineur
Allegro con brio (in C minor)
Adagio cantabile (in A-flat major)
Scherzo: Allegro (in C major)
Finale: Allegro; Presto (in C minor)
PEDRO VIERA was born in Lisbon and started the violin with Ana Rita Mendes, at the age of five. He later completed his high school musical studies with prof. Jorge Teixeira and prof .Miguel Simões, and along with the violin, he finished the piano course, with renowned Portuguese pianist Paulo Oliveira. Pedro played in numerous masterclasses, across Portugal and abroad, with teachers such as Aníbal Lima, Roberto Perez, Elliot Lawson, among others.
He's been invited twice, to take part in the "EGO" project, the Young Gulbenkian Orchestra project, run by renowned Portuguese conductor Joana Carneiro, and was later invited to join the main Gulbenkian Orchestra.
He is currently studying at the Utrecht Conservatory, under the guidance of prof. Eeva Koskinen.
MANUEL BEJA SANTOS
Manuel Beja Santos started the piano at the age of 5 with Anne Marie Oberreit, the founder of the Suzuki School, in Brussels. He later moved to Lisbon, to continue studying with prof. Mariana Cruz, who encouraged his passion for the piano. During this period, he took part in numerous competitions across the country, where he was awarded a number of prizes, and performed as a soloist for the first time at the age of 12. He worked closely with some of the biggest Portuguese pianists, such as Pedro Burmester and Artur Pizarro.
In 2008 he was awarded a scholarship to study at the Trinity Laban Conservatory of Music and Dance, with internationally renowned pianists Mikhail Kazakevich and Hillary Coates. Whilst at Trinity, he regularly performed across the UK, as well as winning several solo and chamber competitions, and taking part in numerous educational and multi-disciplinary projects. He also had the chance to work with some of the finest pianists of a generation, such Boris Berman, Martino Tirimo, Paul Badura- Skoda and Angela Hewitt. – After Graduating, Manuel went on to finish his studies at the Royal Conservatory of Brussels, in the class of Serbian pianist Aleksandar Madžar, and joined the Bell'Arte foundation, to work with renowned pedagogue Nelson Delle-Vigne. As an Artist-in-Residence, he has had the opportunity to perform in Portugal, Italy, Russia, Lithuania, Belgium, Poland and most recently as a soloist, in West Palm Beach, USA.
Manuel has championed the Iri Art Song with duo partner Irish baritone Páidí Ó Dubháin for a number years, most notably taking part in the centenary celebrations of Irish composer Bryan Boydell, at the Royal Irish Academy, in Dublin. In 2020, their collaborative project is centered on Beethoven's Irische Lieder, which they will be performing across Belgium and neighboring countries. – Manuel currently holds a teaching position at the British School of Brussels and is regularly invited to take part in numerous musical projects.
He nurtures a special interest for the polyphony and counterpoint of J. S. Bach's music and was invited to take part in the 2018 Bach Competition, in Leipzig.
Réservation indispensable– Entrée: 15 € – 7 € (étudiants et enfants de moins de 12 ans)
Réservations
Les paiements s'effectuent uniquement en espèces à l'entrée des événements.
Les réservations sont closes pour cet événement.