vendredi 02 Fév. 2018 - 20h00
Atelier Marcel Hastir (étage 2)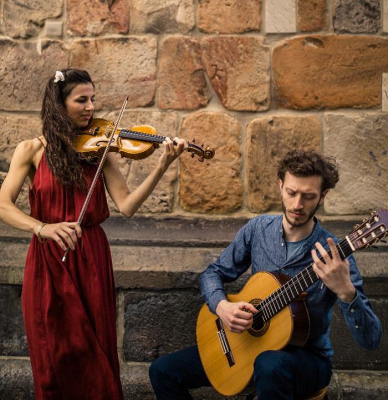 Aurelia Lampasiak, Violin – Francesco Cascarano, Guitar
The Duo Inconsueto creates a visionary dialogue rediscorvering the fine chamber music repertorie of the Spanish Impressionism, the First Viennese School and the Argentinian Tango. Guitar and violin resonate through original compositions by Astor Piazzolla, Mauro Giuliani and arrangements of famous works by Franz Schubert and Manuel De Falla.
Within the last years, Aurelia Lampasiak and Francesco Cascarano played together as a Duo and in other ensemble, and performed in several locations and festivals like Klassik in der Altstadt, Lange Nacht der Museen Hannover, LichTöne Magdeburg, Theater Wrede+ Oldenburg and many more.
Aurelia Lampasiak
In 1989 Aurelia Lampasiak was born in Germany into a family of musicians. She started taking violin lessons from when she was six years old.
Aurelia is focusing on her career as a solo violinist and as a chamber musician. Her key influences are Meike Bertram, Ulf Schneider, Elisabeth Weber, Eiji Oue and Thomas Posth. Aurelia attended masterclasses in Germany, France, Belgium and Greece. Since 2017 she studies her master degree with Meike Bertram at the Hochschule für Musik, Theater und Medien in Hannover.
Aurelia performed the Four Seasons by Antonio Vivaldi with Orchestra in Isernhagenhof Kulturvereinand in Marktkirche Hannover. As a chamber musician she has played with several string quartets and in various ensembles in France, Greece and Germany.
During her studies, Aurelia developed a passion for classical contemporary music. She performed Heavy Wood light metal by the composer Roni Brenner together with the Ensemble Garage at the Festival Klangbrücken. At the7. Music Village ArTree-Festival she played with the Swissduo Ums'n Jip works by John Cage, Hans Rudolf Schiess and others.
As well as in her pedagogical work, playing improvised music is one of Aurelia's main interests, especially when in collaboration with dancers and actors. Since 2016,she has been teaching Improvisation to young migrant students for ImproKultur, a project funded by Förderkreis der HMTMH. Also, in 2017 she worked for the Staatsoper Hannoverin an education project with the contemporary opera Leyla & Medjnun. – Aurelia plays a violin built by Zvi Dori in 2015.
Francesco Cascarano
Francesco Cascarano was born in Mola di Bari (Italy) in 1990. He studied classical guitar at theConservatory of Music "Nino Rota"in Monopoli, where he achieved in 2013 the Bachelor's degree in Music Performance with full marks and honour under the guidance of Massimo Felici. Francesco Cascarano continued his studies in Germany at theHochschule für Musik, Theater und Medienin Hannover with Prof. Frank Bungarten, where he obtained the Master degree in Music Performance with the highest grade. He also has attended several masterclasses with great guitarists world renowned, including Lorenzo Micheli, Oscar Ghiglia, Zoran Dukic, Stefano Grondona, Nando Di Modugno, Jukka Savijoki and many others.
Francesco Cascarano played many concerts during several music festivals and events, both in Italy and abroad like: Festival della Valle d'Itria in Martina Franca, Medimex 2015 – Bari, Mudo und Musik 2015 – Hamburg, International Guitar Festival "Niccolò Paganini", JazzWoche Hannover 2015, Stagione Chitarristica "Città di San Vito dei Normanni 2013", Notti Sacre – Bari, Forum Neue Kammermusik Hannover, Internationale Alumni Akademie – Dresden and many others.
His interest for the experimentations and for the new musical languages brought him to play and collaborate with international composers and musicians (Günther "Baby" Sommer, Snezana Nesic, Manos Tsangaris, Medhi Jalali, Corinna Eikmeier and others) and promote the cooperation between different arts. For example, the development in 2015 of the Theater/Music/Motion work Mars Nostrum.
In 2016 the Iranian composer Medhi Jalali wrote for him the work for solo guitar Cesco op. 93.
Francesco Cascarano conduct also several workshops about music and free improvisation and he is currently teaching in the Gitarren Akademie Linden.
Francesco plays a guitar made by Gerhard Schnabl.

Après le concert le verre de l'amitié vous sera offert, en compagnie des artistes.
Réservations
Les paiements s'effectuent uniquement en espèces à l'entrée des événements.
Les réservations sont closes pour cet événement.