samedi 14 Nov. 2020 - 20h00
Atelier Marcel Hastir (étage 2)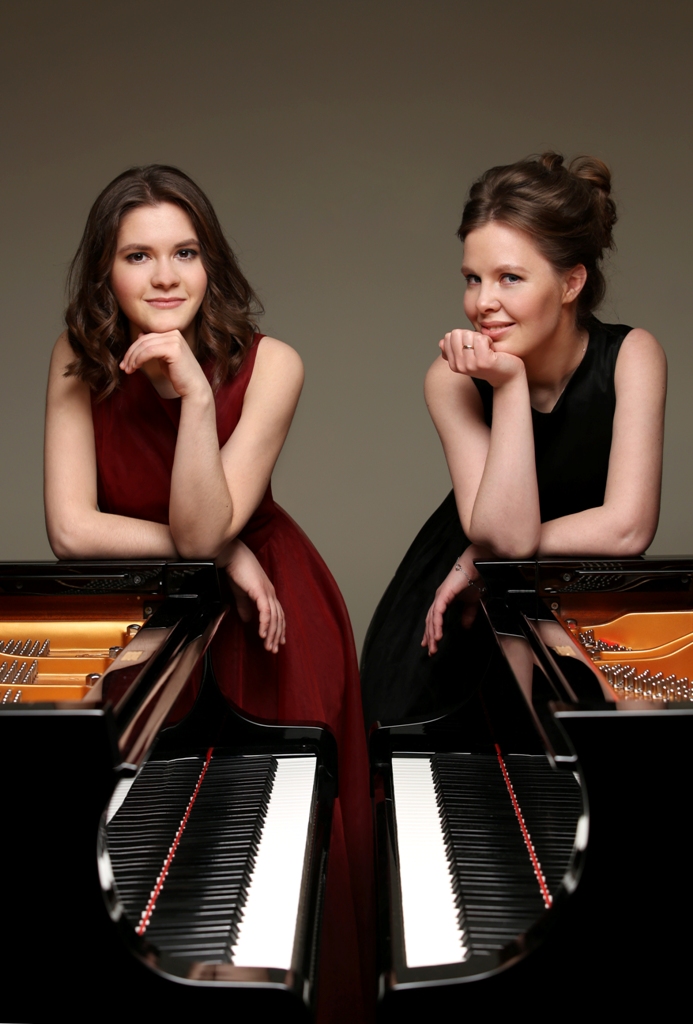 Programme
F. Schubert – Fantaisie f-moll
J. Brahms – Valses pour piano à quatre mains op. 39
R. Schumann – Pièces pour petits et grands enfants, op. 85
C. Schumann (Wieck) – Marche Es-dur
G. Fauré- Suite « Dolly »
M. Infante: Three Andalusian Dances – Duo Olga and Ksenia Kemova : « Ritmo », « Sentimento », « El Vito »
Duo Olga & Ksenia Kemova
The musical partnership of Olga and Ksenia Kemova started as a piano duo in 2012 in Moscow during the years of study in Moscow State Music Institute named after Alfred Schnittke and led to numerous victories in national and international competitions and participation in festivals. The duo is winner/prizewinner of the following international competitions:
2017 April –III prize Rising Stars Competitions in Berlin
2017 April – The International music competition "Musical fireworks in Baden-Wurttemberg" in Mulacker, Germany – I prize;
2017 March – II prize Grand Virtuoso Competition;
2017 January– The International Kabalevsky competition, Russia – II prize
2016 – won a scholarship for Tel-Hai masterclasses (as a duo) in Israel
2015 – Chopin Roma XXV International competition in Rome, Italy – Absolute I prize in the category "Piano Four hands" and II prize in the category "Two pianos duo"
2015 – National Russian Duo Competition (in memory of A. Bakhchiev) in Vologda, Russia – I prize
2012 – "Sforzando" VI international competition in Berlin, Germany – I prize
2012 – "Rondo" International competition in Stockholm, Sweden – I prize
With a vast repertoire of four hands and two piano music, the duo plays regular recitals in concert halls of Moscow (International House of music Chamber Hall, Rachmaninov Hall of Moscow Conservatoire, P.Slobodkin Centre Hall, Goldenweiser Museum, Taneev Museum, Pushkin Museum, Losev Museum-Library, etc.) and takes part in classical music festivals (The Weber festival, The Spring in Russia festival, the Rubinstein festival, etc.).
While Ksenia Kemova holds degrees in piano and linguistics, Olga Kemova obtained her degrees in piano and organ. This brought about a new form of the sisters' partnership – the duo of piano and organ – a rare ensemble because of its special features. The duo has recently presented their programme, based on original works for piano and organ and transcriptions, in music festivals in Russia and Serbia.
Ksenia and Olga are also pursuing a solo career in piano and organ respectively. Ksenia is the winner and prize winner of many international competitions, including the Rakhmaninov Piano Music Competition in Saint-Petersburg, and continues her studies with Professor Aquiles Delle Vigne. Besides a piano degree, Olga holds a Master's degree in organ and is the First Prize winner of the Odoevsky Organ Competition in Moscow.
Ksenia is doing her postgraduate research in the field of four hands repertoire, studying primarily sonatas for piano duet in the historical perspective.
Réservations – Entrée: 15 € – 7 € (étudiants/enfants de moins de 12 ans)
Réservations
Les paiements s'effectuent uniquement en espèces à l'entrée des événements.
Les réservations sont closes pour cet événement.