samedi 25 Jan. 2020 - 20h00
Atelier Marcel Hastir (étage 2)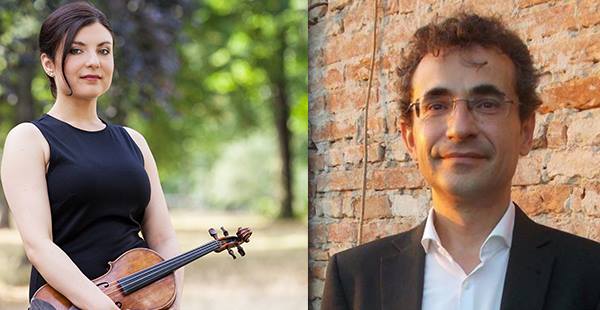 Olga Caceanova Sergej Filioglo
Au programme
1.Igor Stravinsky – Suite Italienne, for violin and piano (after Pulcinella,transcribed with Samuel Dushkin)
Introduzione – Serenata – Gavotta con due Variazioni – Scherzino – Minuetto-Finale
2. Maurice Ravel – Sonata No.2 for violin and piano
Allegretto – Blues.Moderato – Perpetuum mobile.Allegro
…………………………………………………
3. Francis Poulenc – Sonata for violin and piano
Allegro con fuoco – Intermezzo – Presto tragico
4. Manuel de Falla – Suite Populaire Espagnole, for violin and piano (arr. from « Popular Spanish Songs » by Kochansky)
El Paño Moruno – Cancion – Polo – Asturiana – Jota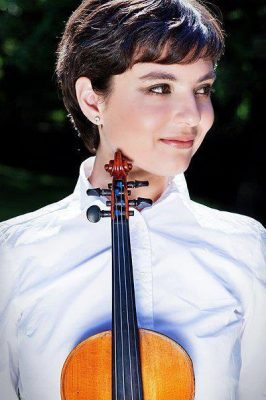 Olga Caceanova, violon
« Praised for her "playing with passion" (The Boston Globe), violinist Olga Caceànova has made a name for herself as "a self-assured performer with great poise", as described by leading critics.
Her repertoire ranges from baroque and classical to new commissions. Having a great interest in new music, Olga will be performing numerous newly written compositions written especially for her. She has a great affinity towards her Romanian roots that vitalize her interpretations up to the point that once made The Boston Musical Intelligencer write: "Make a bee-line to the venue…if you see Caceanova's name on a billboard or in a calendar!"
Olga is also very passionate about chamber music and has collaborated with musicians such as – Bruno Canino, Donald Weilerstein, The Atrium String Quartet, Roger Tapping, Gunther Albers, Kirill Troussov, Michael Gurt, The Brentano String Quartet, Pierre Amoyal, Alan R. Kay,composer Philippe Hersant, Anthony Marwood, Robert Levin, Jean-Michel Fontaneau, Evan Solomon, Merima Ključo, Michael Kanen, David Dubal to name a few.
Olga has also worked with John Corigliano and chamber orchestra  » Kremlin » on his piece  » Red Violin Suite » which has been played in many concert halls in the US.
Conductors she has collaborated with include – Paavo Jarvi, Michael Sanderling, Benjamin Zander, Israel Yinon, Federico Cortese, Antonio Mendez, Joshua Weilerstein, Gunther Albers, Julian Pellicano among many others.
This season Olga is scheduled to play at the Bundesrat Berlin, Schloss Charlottenburg ( Berlin),Piano Salon Christophori ( Berlin), Mantova Chamber Music Festival, Jeunesses Music Festival in Bucharest ( Romania), Nikolaisaal Potsdam under the baton of Gunther Albers ( Prokofiev Violin Concerto No. 2), Bad-Homburger Schlosskonzerte, Casino Gesselschaft Wiesbaden. As well as she was invited to the Parnu Festival by Paavo Jarvi.
Highlights of Olga's recent engagements include recitals at the Carnegie Hall (New York), Lausanne Conservatoire ( Lausanne, Switzerland), Tonhalle Zurich, Philharmonie Berlin,Casino Saal of the Goethe University under the baton of Michael Sanderling ( Frankfurt Am Main), Oxford College (USA), Elmira College (USA), Yellow Barn Festival (USA) , Galeazza, (Italy), Corte Eremo (Italy) and Chicago Radio concert series (USA) .She also performed works by E.Granados ( Spain) at the Cervantes Institute in NYC at the David Dubal's New York Times Classical Radio Station (WQXR) concert series.
Born in Chisinau ( Moldova), Olga studied with Donald Weilerstein at the New England Conservatory of Music in Boston (USA).
Olga owns a violin by Gulbrand Enger , circa 1874 ( Copenhagen, Paris), plays a G.B.Guadagnini violin generously provided by a private benefactor and a Cuniot-Hury bow ( France)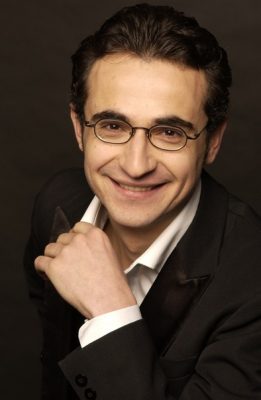 Sergej Filioglo, piano
Sergej Filioglo, moldawischer Pianist, begann sein Klavierstudium in Komrat (Moldau). Anschließend studierte er bei Nina Kvasova am Musiklyzeum « S. Rachmaninoff » in Kishinev und an der Akademie für Musik « G. Musicescu » bei Ludmila Wawerko.
Während des Studiums gewann er den 1. Preis beim Nationalen Wettbewerb und den 3. Preis beim Internationalen Wettbewerb in Kishinev.
Tourneen als Solist führten ihn nach Russland, Rumänien, Deutschland, Frankreich, Belgien, Spanien, Litauen, Korea und Taiwan.
2003 erhielt er das Diplom mit Auszeichnung an der Hochschule für Musik und Tanz Köln (Klasse Prof. Vassily Lobanov).
Als leidenschaftlicher Kammermusiker konzertiert er mit renommierten Künstler, wie u. a. Latica Honda-Rosenberg (Violine), Olga Caceanova, Tomasz Tomaszewski (Violine), Guido Schiefen (Violoncello), Ralph Manno (Klarinette).