dimanche 28 Fév. 2021 - 20h00
Atelier Marcel Hastir (étage 2)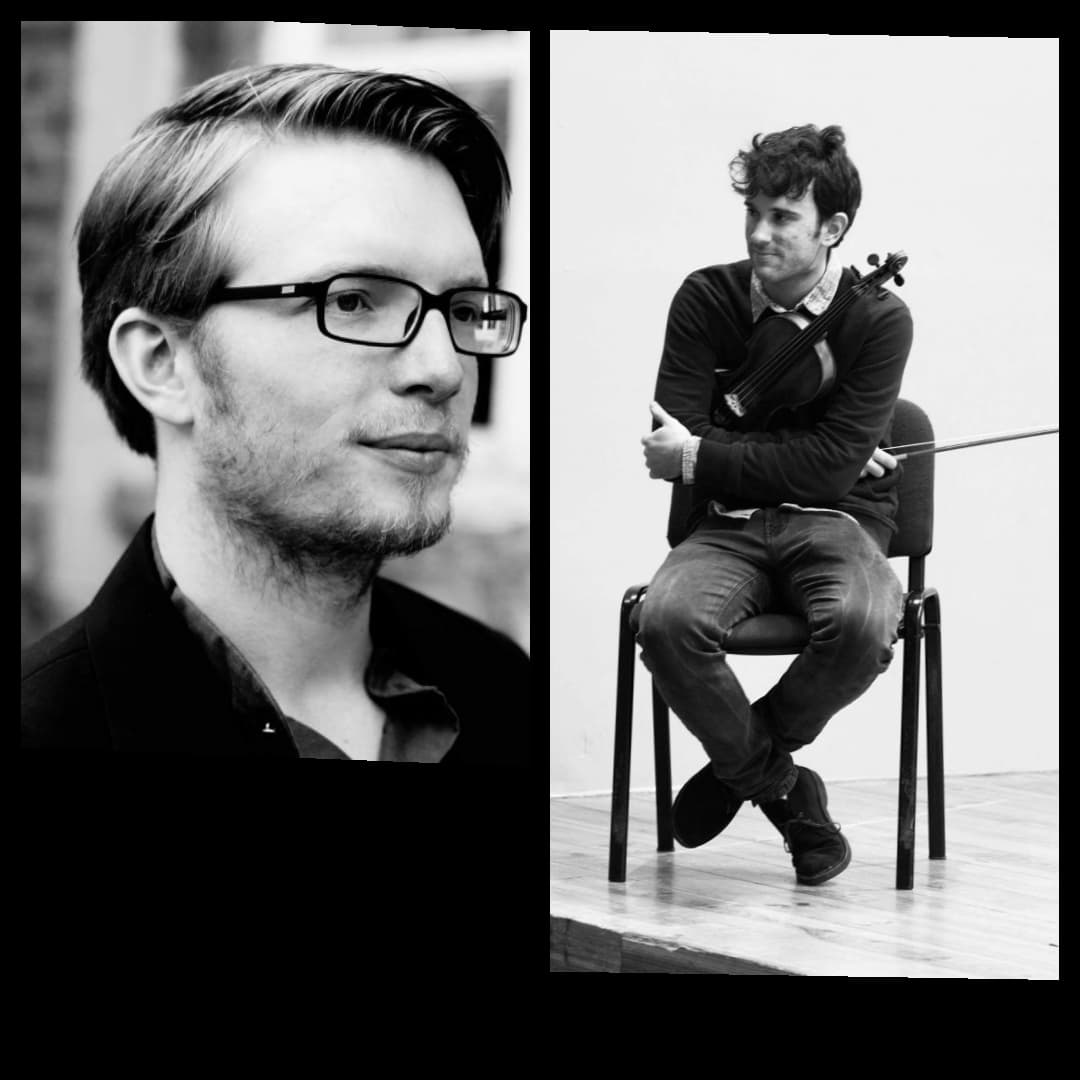 Arethuse Duo – Julien Lejeune, piano & Gabriele Mazzon, violin
Au programme
César Franck – Sonate pour violon et piano en la majeur FWV 8
Ferruccio Busoni – Sonate pour violon et piano n°2 en mi mineur opus 36a BV 244
Eugène Ysaÿe – « Rêve d'enfant » en la b majeur opus 14
The Arethuse Duo was born in 2018 in the Conservatoire Royal in Mons. The duo is composed by violin and piano. There is a lot of repertoire for this formation and they are focus in the french romantic period, in the german romantic period and from 2019 in the discover of italian repertoire. The name of the duo take inspiration from the first song of the Mythes of Karol Szymanowski, piece that they regulary play. In Greek mythology, Arethusa was a nymph and daughter of Nereus who fled from her home in Arcadia beneath the sea and came up as a fresh water fountain on the island of Ortygia in Syracuse, Sicily.
GABRIELE MAZZON
Gabriele Mazzon is an italian violinist, born in 1995.
In 2017 he graduated with the highest score in Bachelor Studies in the Conservatory « A. Steffani » of Castelfranco Veneto in Italy with M° Michele Lot and in 2019 he graduated with Grand Distinction with Eliot Lawson in the violin master exspecialisè in the "Conservatoire Royal of Mons ARTS2". – He also studied with Ilya Grubert and Eliot Lawson in "Accademia Musicale Santa Cecilia" in Italy and attended Masterclasses with Ivry Gitlis, Elina Vahala (Wien Univerity of Music) Elisabeth Perry (Utrecht Conservatory), Wibert Aerst (Mons – Gent Conservatory) Vicente Anton, Igor Volochine (Lyon Ecole Normale), Vineta Sareika (Artemis Quartett). – He studied chamber music with Domenico Nordio, Filippo Feas (first prize in Schubert Piano Competition), Daniel Rubinstein, Luc Dewez.
In 2009 he won the second prize in the Italian National Competition of "Castiglione delle Stiviere" soloist category and in 2010 the second prize in the International Competition "Città di Treviso". In 2017 he won the scholarship entitled to « D. Zambon » from the Conservatory of Castelfranco Vto. – He collaborated with several orchestras in Italy, such as « Venice Chamber Orchestra » like leader of second violin, « Filarmonia Veneta », "L'Offerta Musicale", like conzertmaster in "Orchestra Giacomo Facco" and "NovArtBaroqueEnsemble", important ensemble in Venice for the Baroque music.
In 2016 he won the audition and played like first violin with the "Orchestra Nazionale dei Conservatori Italiani" (ONCI) where he played with the famous director M° Bruno Aprea.- From 2018 he plays regularly like first violin with « Young Musicians European Orchestra » directed by M°
Paolo Olmi with who went to Russia and China tournèe, « Orchestra d'archi Italiana » like second violin directed by M° Enrico Bronzi. In 2018 played like second violin with the prestigious « Boho Strings Orchestra » of Antwerp in Belgium and "Hulencourt Symphony Orchestra" in Bruxelles.
In 2018 he won the audition for the "Jeugd Antwerp Simphony Orchestra" (ASO) and for "Nationaal Jeugd Orkest" (NJO); and in the same period he was selected like reserve for "European Union Youth Orchestra" (EUYO).
He formed a very good duo for chamber music with Julien Lejeune, the Arethuse Duo. He formed also an Ensemble with a singer "Belgian Music Composers" for playing belgian repertoire. – He studied in the University of Padova in the faculty of History and Musicology.
JULIEN LEJEUNE
Julien Lejeune is a belgian pianist born in 1987 in Charleroi.
He started his music studies in Academy of Ransart at 7 years old where Julien soon discovered his passion for the piano. He started his piano studies with Nathalie Culot (piano) in Ransart's Academy and in Charleroi conservatory. At the end of his academical study, He did his first recording for web radio « Route90 ».
In 2004, Julien started his professional studies with Rosella Clini, Thomas Paule and Alexander Mogilevsky
at Mons Conservatory (« Arts² »). – He took masterclass with Nelson Delle Vigne, Jun Kanno, Teresa Trevisan, Flavio Zaccarian, Christopher
Elton et Stéphane Lemelin.- Julien finished his master performance piano studies in 2012 with great distinction. A year later, he finished
agregation study with great distinction. From 2014 to 2017 Julien taught in different schools in Brussels and continued to have concerts as solist and chamber musician.
In 2016, he started a new master in piano accompagnement with Eugène Galland, leading to collaborations with great musicians such as Alexander Gurning, Inge Spinette and Pablo Galdo (Yasar University, Turkey).
Today, Julien dedicates himself to pedagogy, accompagnement and chamber music. He is working in Academy of Courcelles and Braine-le-Comte, as well as Mons Royal Conservatory.
He is member of different chambre music ensembles: trio « cap », duo Azalée, duo Aréthuse, with concerts in Norway, France, Belgium and Turkey.
Réservations ci-après – Entrée : 15€ – 7€ enfants de moins de 12 ans
Réservations
Les paiements s'effectuent uniquement en espèces à l'entrée des événements.
Les réservations sont closes pour cet événement.