samedi 29 Fév. 2020 - 20h00
Atelier Marcel Hastir (étage 2)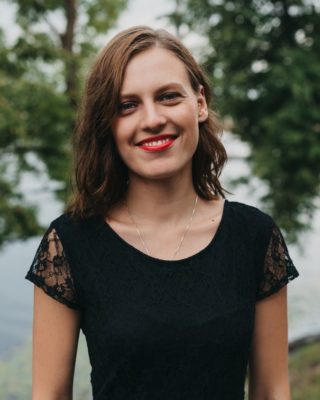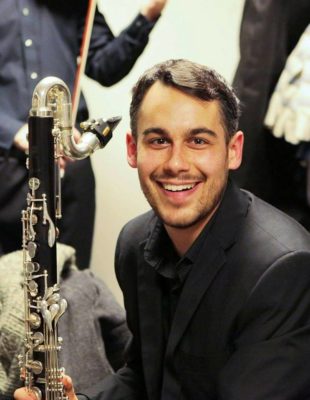 Zane Rubesa, piano Carlos Ivorra Rives, bass-clarinet
1st Part
Witold Lutoslawski (1913 – 1994) – Dance Preludes for Clarinet and Piano (1955) 12'
1. Allegro molto – 2. Andantino – 3. Allegro giocoso – 4. Andante – 5. Allegro Molto
François Rasse (1873 – 1955) – Lied for Bass Clarinet and Piano (1921) 3'
Lubos Sluka (1928 – ) – Sonata for Bass Clarinet and Piano (1956) 15'
1. Andante sostenuto – 2. Allegro energico
2nd Part
Leonard Bernstein (1918 – 1990) – Sonata for Clarinet and Piano (1942) 10'
1. Grazioso – 2. Andantino – Vivace e leggiero
Wayne Siegel (1953 – ) – Jackdaw for Bass Clarinet and Tape (1995) 10'
Arthur Gottschalk (1952 – ) – Sonata for Bass Clarinet and Piano (2009) 15'
1. Overture. Salt Peanut Memorial Barbeque – 2. Motet. Ancient Incantations – 3. Green Dolphy Street Boogie
Voici quelques videos du Duo:
https://www.youtube.com/watch?v=6x8KCBlOkXM ( Bozza Ballade for bass clarinet and piano )
https://www.youtube.com/watch?v=_VbEFkEaX7Q ( Bernstein Sonata for clarinet and piano 1st movement )
Carlos Ivorra Rives began his clarinet studies in Spain with Jesús Osma López. He obtained the Professional Degree in Clarinet and the Extraordinary Prize in the Music Conservatory of Alicante under the guidance of Francisco José Fernández Vicedo and Víctor Estarelles Camarasa. – He started his Bachelor studies in the Music Conservatory of the Balearic Islands with the teachers Eduardo Bernabeu Valls and Ona Cardona Curco. Finally, Carlos obtained his Bachelor Degree with Emilio Ferrando Peris in the Music Conservatory of Valencia. He finished his Master's Degree in Clarinet with High Distinction (Cum laude) and the Concertmusicus Diploma in the Koninklijk Conservatorium of Brussels in Benjamin Dieltjens' class.
He has participated in many masterclasses with prestigious soloists and teachers like Wolfgang Meyer, Pascual Martínez Forteza, Enrique Pérez Piquer, Karl Leister, Johannes Peitz, Josep Fuster, Davide Latuada, Vincent Penot, Eduardo Raimundo, Julien Hervé and Jörg Widmann.- Carlos has received two years the scholarship of CulturArts Generalitat Valenciana to study clarinet in Paris with Patrick Messina and with Alessandro Carbonare in the Accademia Nazionale di Santa Cecilia of Rome.
As an orchestra musician, Carlos has performed with the Balearic Symphony Orchestra, the Antwerp Symphony Orchestra, the Barcelona Municipal Wind Band, the Valencia Municipal Wind Band, the Youth Orchestra of Alicante and the National Youth Orchestra of the Netherlands. He has played under the baton of conductors such as Roger Norrington, Anthony Hermus, Salvador Brotons, Bas Wiegers, Fernado Bonete, Roberto Benzi, Christian Lindberg, Norbert Nozy, Yves Segers, Edo de Waart or Kevin John Edusei.- Nowadays, Carlos is studying for a Master's Degree in Bass Clarinet in the Koninklijk Conservatorium of Brussels with Benjamin Dieltjens and e-flat clarinet with David van Maele.
Zane Rube started to play piano at the age of seven in Jelgava Secondary Music school and continued her education in Jāzeps Vītols Latvian Academy of Music in the class of Arnis Zandmanis, where she pursued her Bachelor and Master degree in Piano Performance. Seeking further career advancement and international experience, in 2017/2018 she did an internship as a piano accompanist in Royal Conservatory of Brussels.
During her studies, Zane has been a participant of numerous masterclasses with great musicians such as D.Bashkirov, A.Kouyoumdjian, L.Zilberstein, D.Yoffeamongothers and she has won numerous prizes as soloist and as chamber musician.With trio Metamorfoze (Latvia) she was awarded 3rd prize in International Friedrich Kuhlau Flute Completion (Germany) and 1st prize in Svirel music competition and festival (Slovenia). She has performed in several festival, among them Mantova Music festival (Italy), Belgian Musicdays, Debussyfestival (Belgium), Aurora Winter Festival (Sweden).
Currently Zane is based in France as an accompanist and an active member of various chamber Music projects across Europe.
Réservations : ci-après – Entrée: 15 € – 10€ (étudiants) – 6 € (enfants de moins de 12 ans)
Après le concert le verre de l'amitié vous sera offert, en compagnie des artistes
Réservations
Les paiements s'effectuent uniquement en espèces à l'entrée des événements.
Les réservations sont closes pour cet événement.