samedi 03 Juin. 2023 - 20h00
Atelier Marcel Hastir (étage 2)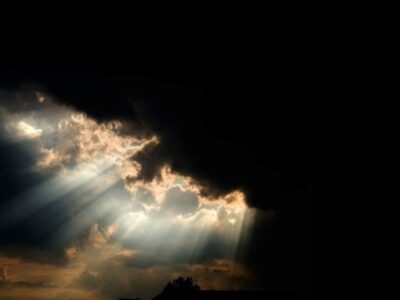 Programme :
"Life is a play, a play between

light

and darkness"
– M. De Falla: Serenata Andaluza for piano
– A. Khatchaturian: Trio for clarinet, violin and piano
– Fr. Liszt: Consolation no.3 for piano
– D. Shostakovitch: 5 pieces for clarinet, violin and piano
– E. Durlet: Canzonetta for violin and piano
– Fr. Chopin: Nouvelle étude no.1 for piano
– J. Pagán: Trio no.1 for clarinet, violin and piano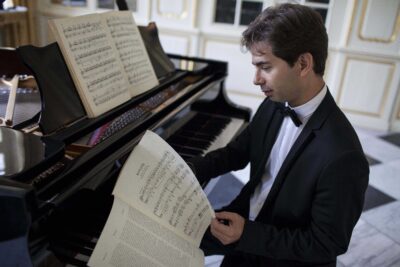 David Cools, piano :
David Cools (1978) is a Belgian pianist and teacher with Spanish roots. He
stems maternally from the Spanish musical Pagán family. His grandmother
Paquita Pagán sang operette, his great uncle Juán Pagán was a saxophonist,
Julián Pagán was a pianist and José Pagán was a composer, pianist and
orchestra director. David recounts: "As a 7-year-old I discovered The Cat
Concerto with Tom & Jerry and still remember myself crying from sheer joy
on the carpet while thinking: is there anything more fun than playing the
piano?"
Eternal vocation
He graduated under the tuition of William Peeters at the Music Academy of
Willebroek in 1996 with a 98,5% mark and Medal of the mayor house. He
then studied and obtained a masters degree in Psychology and
Neuropsychology at the University of Leuven in 2004.
In 2001 he won the first prize during the Musicologica piano competition in
Leuven, Belgium. He also obtained the first prize for his interpretation of the
compulsory work, !Bachatelle", by composer Peter Swinnen. Since 2003 he
has been studying at the Music Academy of Bornem under the tuition of
Erwin De Bock, a pupil of Prof. Peter Feuchtwanger, with whom he, later,
took master classes in Waldkirch, Germany in 2011. He later finished his
masters degree in music with Prof. Alessandro Cervino and another masters
degree in chamber music with Julien Libeer at LUCA School of Arts in
Leuven, Belgium. At the same time he also studied composition with Prof.
Jeroen D »hoe for four years.
David loves performing for his supportive audiences year after year. A
special mention goes to a piano recital he gave in 2013 in Mozarte, Quito,
Ecuador including his own compositions. In 2016 and 2017 he played in the
historical spa La Encarnación in Los Alcázares, Spain. In an exotic open
patio full of flowers and birds his composition Danza for saxophone and
viola was premiered.
Composing
As a composer he won the Best Soundtrack award at Ciné Public Festival
(Belgium, 2009) for the movie El camino del deseo by Eva Cools. Many of
his compositions blend Spanish folklore with contemporary techniques and
styles, i.e. Danza, Escena en la plaza de toros.
His last album Esferas (2020) evocates the music of the spheres in the
universe of Pythagoras. According to his philosophy every planet has its
own sound although we cannot hear it. Music is a unifying force we should
promote.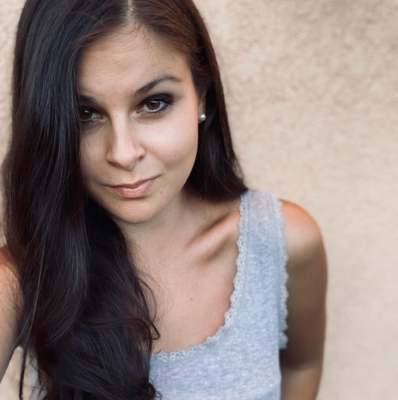 Zsofia Cséri-Horvath, violon :
At the age of 4 she fell in love at first sight with the violin. She started to study classical music at
the age of 8, and she won several prizes at National and International Violin competitions.
After her BA graduation in Austria, she decided to dive in "crossover" style, she played on Luxury
Ocean Cruise Ships. Musical, Salon music, Pop, Jazz, Rock, Classical.
After this journey she got back to Classical music, and started her MA studies in Belgium.
She would love to continue to entertain the public all over the world with the music they enjoy, and she enjoys
with them on stage. Her goal is to reach the young generation as well through Classical
Music, maybe even in a humorous way.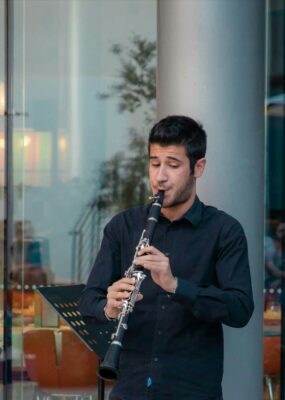 Andrea Onnis, clarinet :
Andrea began his studies at Cagliari Conservatory (Italy), where he had the opportunity to attend
various masterclasses in clarinet, chamber music and contemporary music with some of the
most relevant personalities of today on the European scene.
He always loved actively participating in different formations and events, such as : classical
orchestra concerts, tournée with contemporary music ensembles, film music projects, chamber
music concerts and he played as a soloist with orchestra. In 2016 he performed the Clarinet
Concerto by Gerald Finzi with the Orchestra of the conservatory of Cagliari.
In 2018 he started teaching Clarinet and Music Theory, discovering he was very passionate
about it.
He decided to move to Belgium to complete his conservatory studies with Mr Roeland Hendrikx
at Lemmensinstituut. There he is engaged in several projects (LUCA Chamber Orchestra, LUCA
Philharmonic Orchestra, Joint Venture).
In June 2021 he got his Bachelor's Diploma in Clarinet with Greatest Distinction, and he
currently follows the Artistic Master Program in Clarinet.
Rés.: ci-après – Entrée: 15 € – 10 € (étudiants et enfants de moins de 12 ans)
Après le concert le verre de l'amitié vous sera offert, en compagnie des artistes
Réservations
Les paiements s'effectuent uniquement en espèces à l'entrée des événements.