mardi 14 Mai. 2019 - 20h00
Atelier Marcel Hastir (étage 2)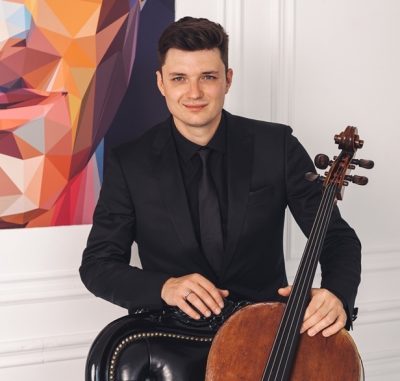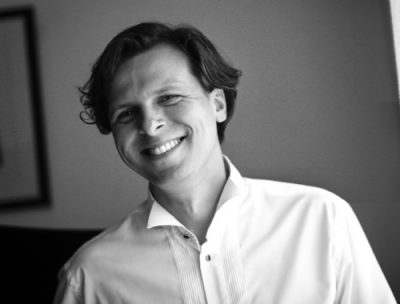 Programme
R.Schumann : Pieces
F.Schubert : Sonate en la mineur, D. 821 pour arpeggione et piano
F.Schubert/Piatigorsky : Introduction theme and variations variations,op.82,No 2
S.Prokofiev : Cello sonata,op.119,C major
N.Kapustin : Cello sonata No.2,op.84
Dmitry Prokofiev, cellist – BIOGRAPHY
Dmitry Prokofiev was born in Moscow. In 2005, he graduated Moscow Conservatory in the class of professor Natalia Gutman. He is a prize winner of a number of Juvenile international competitions (Russia, Italy, Austria), a prize winner of the International contests: A. Tansman (Poland 1998), P.Tchaikovsky (Russia 2002), A. Yanigro (Croatia 2008).
Since 2000, he has been a performing artist of State Chamber Orchestra "Moscow Virtuosi" under conducting of V. Spivakov, since 2003, he has been a participant of Quintet of the soloists of "Moscow Virtuosi" orchestra.- Since 2008 – cello professor at Tchaikovsky Moscow State Conservatoire, since 2015 – principal cello of Montenegro Symphony Orchestra. – Since 2016 – a cello tutor in University of Montenegro Music Academy.
Prokofiev has been performing publicly since 10-year age. He appeared with the solo recitals in many cities of Russia and worldwide. They took place at such prestigious halls as Auditorium du Louvre in Paris and Rudolfinum in Prague. – He played as a soloist accompanied by the symphony orchestras conducted by I. Golovchin, M. Gorenstein, V. Spivakov, Yu. Bashmet, A. Rudin, V. Polyansky, L. Nikolayev, R. Liedo (Spain), S. Vlasov, M. Chorwat (Austria), L. Korchmar, A. Skulsky, Z. Muller (Czech Republic), G. Rinkyavichus, A. Zuckermann, Noam Zur.
He is a participant of international music festivals including: Vladimir Ashkenazy festival (Finland), a festival in Kroeuth (Germany), a festival to the memory of Oleg Kagan (Moscow), "Moscow Fall" festival, Music festival in Vyborg, "Primavera Classica" (Moscow), music festival in Colmar (France), "December Nights" (Moscow), festival Kotorart in Kotor (Montenegro), Eliso Virsaladze festivals in Kourgan and Telavi (Georgia).
In chamber music, D. Prokofiev played with Vadimir Spivakov, Natalia Gutman, Nikolai Lugansky, Jessie Norman, Edward Brunner, Jean Guillou, Natalia Shakhovskaya, Ilya Gringolz, Alexander Kobrin, Mikhail Simonyan, Olga Kern, Eliso Virsaladze, Mikhail Lidsky, Ekaterina Skanavi, Elena Revich, Nikolai Sachenko, Polina Osetinskaya and many others.
Prokofiev recorded his first CD at the age of 16 with professor of the Moscow Conservatoire Alexey Nasedkin (Sonatas for cello and piano by D. Shostakovich and E. Grig). In 2004, he issued a CD with Alexander Kobrin (piano). It contains music of Debussy, Brahms, Schumann, Paganini.
Vladimir Milošević, pianist – BIOGRAPHY
One of the most prominent Serbian pianists of his generation, Vladimir Milošević has been proclaimed the Winner of the 2013 Rising Artist Concerto Presentation by the New York Concert Artists & Associates and he featured with NYCA Symphony Orchestra in 2014 at Merkin Concert Hall – Kaufman Music Center in New York City.
So far his performances were lauded by the critics in many European centers, in venues such as Salle Cortot in Paris, Steinway Hall in London, Konzerthaus Berlin, Teatro Tivoli in Porto, Foerster Hall in Prague, Teatro Olimpico in Vicenza, Konzerthaus Vienna, Mann Auditorium in Tel Aviv and also in Milan, Rome, Bari, Venezia, Rennes, Nice, Lyon etc. As a winner of the competition Concerti in Villa in Vicenza, Italy, he got his debut concert at the prestigious Carnegie Recital Hall in New York in 2005, and was subsequently featured within the concert cycle Velikani muzičke scene – Rising Stars of the Kolarac Hall in Belgrade.
In 2007 he toured South Africa where he held recitals in major concert venues such as Baxter theatre in Cape Town, Linder Auditorium in Johannesburg among others and performed with the Cape Town Philharmonic Orchestra, Johannesburg Philharmonic Orchestra, and with the Symphony orchestras from Bloemfontein and Durban. He toured Brazil (Porto Alegre, Pelotas, Sao Jose dos Campos) and Morocco (Casablanca, Rabat and Marrakesh) and Australia performing recitals and giving masterclasses in Sydney, Canberra and Melbourne.
He has been invited repeatedly to the biggest classical music festival in Serbia – the Belgrade Music Festival-"BEMUS" where, in 2010, his recital marked the anniversaries of Chopin and Schumann. He took part in other important music festivals in the country, as well as in FYR Macedonia, Bosnia and Herzegovina, Montenegro and Croatia. Very active as a chamber musician, he performs regularly with Serbian cellist Dragan Djordjević with whom he toured Serbia and performed in festivals in Zagreb (Večeri na Griču), Belgrade (International Cello fest), Kotor etc. In April 2013 they performed at Mariinsky concert hall in Sankt Petersburg within the International Piano Festival "Contemporary Piano Faces". He also collaborated with other musicians such as flutist Janos Balint, violinists Roman Simović, Eric Crambes, Stefan Milenkovich, cellist Tim Hugh to name the few. At Semaines musicales Festival in Crans-Montana (Switzerland) he performed in piano duo with Michel Dalberto, after which he was invited to the renowned festival Les pianos de nouveau siècle in Lille (France) where he performed as one of soloists in Mozart's Concerto for three pianos together with Michel Dalberto and Jean-Bernard Pommier and the Orchestre symphonique de Bretagne.
He won several international competitions in France (Nikolai Rubinstein Paris, Rencontre internationale de piano au Mée-sur-Seine, TIM Marseille) and third prize at the Concours Animato in Paris. At the Southern Highlands International Piano Competition in Australia, he also won third prize as well as the special prize for the best performance of a major Romantic work and the audience prize. He won fourth prizes at the International Paderewski Piano Competition in Bydgoszcz (Poland) and at the International Piano Competition Ciudad do Porto in Portugal. He was the semifinalist of large international competitions such as Clara Haskil in Switzerland, Cleveland International Piano Competition in Ohio (USA), and the International Frederic Chopin Piano Competition in Warsaw, Poland.
As a soloist, he has performed with the Belgrade Philharmonic Orchestra, RTS Symphony Orchestra, Orchestra of the Prague Opera, Porto Alegre Symphony Orchestra, Porto Symphony Orchestra, Orchestra del Teatro Olimpico, Wollongong Symphony Orchestra, Pomeranian Philharmonic Orchestra and has collaborated with the conductors such as Anton Nanut, Darinka Matić-Marović, Biljana Radovanović, János Fürst, Martinho Lutero, Nurhan Arman, Emmanuel Siffert, Ori Leshman, Omri Hadari, Romolo Gessi, Jean-Bernard Pommier, Jerzy Maksymiuk, Carlos Alvarado etc. He made recordings for radio and TV channels in Japan, France, Brazil, Poland, South Africa, Canada.
Vladimir Milošević started to play piano in his native town Leskovac, studing under Prof. Mila Veljković. Graduated from the Faculty of Music in Belgrade where he studied with Prof. Nevena Popović, and subsequently finished postgraduate studies in the same class. He continued specialist studies in Italy at the renowned academy Incontri col Maestro in Imola, with Lazar Berman and Michel Dalberto. He also took courses from Naum Starkman, François-René Duchâble, Zoltán Kocsis. Since 2005 he has held a position of Associate Professor at the Faculty of Music in Belgrade.
Réservations : liza_makarenko@hotmail.com – Entrée: 15 € – 7 € (enfants de moins de 12 ans)