samedi 23 Sep. 2023 - 20h00
Atelier Marcel Hastir (étage 2)
Born in Rio de Janeiro, singer and actress Marcia Bittencourt inspires with her expressive voice and stage presence. She interprets Brazilian jazz, bossa nova and choro at the highest level: classics of the rich Brazilian music repertoire as well as original compositions. Together with the brilliant Argentinean guitarist Dami Andres, they bring South America to Europe.
Whether at major festivals like the Black Art Festival in Atlanta alongside Grammy Award winners Cassandra Wilson, Rachel Ferrel and Ivan Lins or at club concerts: the stage is her home. In 2022, she toured with drum legend Portinho from New York and bassist Dudu Penz. She has also toured with Dami Andres in 2022, sat on the jury of the German scholarship programme for young musicians and is currently producing her fifth CD, « Serena », which will be released in early 2023.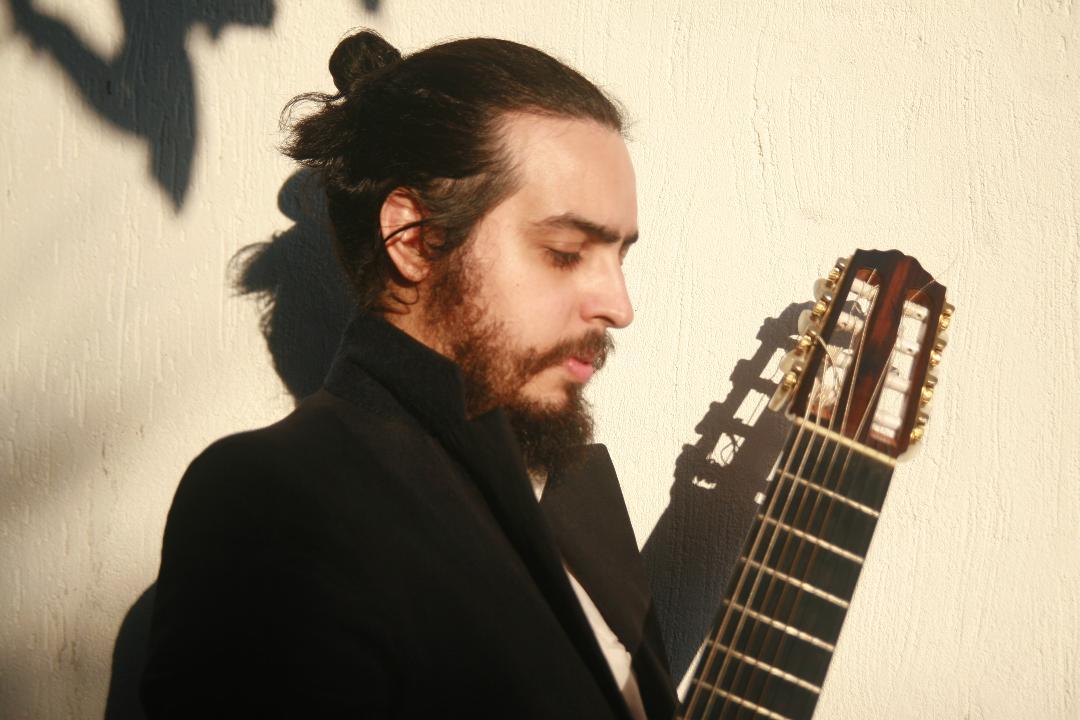 DAMIAN ANDRES, guitar :
"Dami Andres .Violonist Living in Rio de Janeiro, very eclectic. Moves with ease through Classic, Popular Brazilian Music, Bossa Nova, Samba, Latin Jazz, Tango, Caribbean Music, among other styles. It has a very solid musical formation. Your 8 string guitar makes the difference"
Words by Marcos Nascimento, Brazilian guitar player and professor at the Conservatory of Music of Niterói, Rio de Janeiro.
6 and 8 strings guitarist, Dami is a composer and arranger with many copyrighted songs in tune with the Brazilian music universe. Influenced by his brothers, he began his musical studies at the age of 7. At 15, he studied guitar with Gustavo Suarez (Brazilian Music and Latin Music) Dami has graduated in Music by the « Conservatory of the City of Buenos Aires ». Interested in Cuban music studied in this country with Eduardo Suarez (Cuban Music and Improvisation). By that time, Dami was influenced by several musical genres and has studied with international professors such as Martin Porto, Alan Pachta, German Herlen and Luis D'agostino (Jazz, Bossanova and Instrumental Music). Dami has continued his studies, perfecting himself with Nelson Faria and with the great composer and 8-string guitarist, Matias Arriazu.
Throughout his career , he played with several national and international artists as : Daniel Vera ( Cuba), Fuerza Bruta (Gaby Kerpel y Diqui James), Silvana Morena (Perú), Murumba (Argentina) Norberto Alkala (Republica Dominicana), Miguel Montes en Banda (Argentina), Ramon Gonzalez (Ecuador), Norma Ferrer de Cuba ( Buena Vista Social Club), Mano a Mano (Brasil), Roberto Rutigliano (Jazz Quarteto Brasil), Folakemi Adelakun (Inglaterra), Lucia Helena Lemme Weis (Brasil), Aleska Chediak (Brasil), Ibrahim Ferrer de Cuba (Blue Note Rio de Janeiro), Edgar Duvivier (Brasil), Trio Julio, Dami Andres Trio (Brasil), Marcia Bittencourt (Brasil – Alemaha), Blondine Morrison (França), Carlos Garrote (Portugal), Pedro Larrubia (Brasil), Giovana Adoracion (Brasil) Indian Nomma (Brasil), among others.
As a soloist, he has performed in several countries in Europe and Latin America.; Brazil, Argentine, Cuban, Chile, France, Holland, Belgium, Portugal in Brazil in the concert halls; Choro House, Banco do Brasil Cultural Center (CCBB – RJ), Federal Justice Cultural Center, Arthur Távola Carioca Music Center, Zaíra de Oliveira Room, Blue Note Rio, Hermeto Pascoal Arena, TriboZ-Rio (Brazil-Australia Cultural Center ) , Mulambo Jazz Festival, Bossa Nova Festival, Bordeaux Bossa, Niteroi Globe Guitar Circuit, Notorius Jazz, among others.
In 2017 he won the Composition Contest of MEC Radio Festival of Rio de Janeiro, with the guitar solo piece « Saudade do Sul ».
Dami Brasil-Argentina has an authorial and a versatile repertoire that goes through the history of Brazilian and South American Popular Music, passing by through Bossa Nova, Samba, Chorinho, Tango, Chacarera, South American and Central American rhythms. Among his favorite composers and performers stand out; Tom Jobim, Jacob do Bandolim, Baden Powell, Dilermando Reis, Astor Piazzolla, Chucho Valdez,Rafel Rabello, Luis Salinas, Ibrahim Ferrer, Etc
Après le concert le verre de l'amitié vous sera offert, en compagnie des artistes
Réservation souhaitable ci-après – Entrée: 15 € – 10 € (étudiants (max 26 ans) et enfants de moins de 12 ans)
Réservations
Les paiements s'effectuent uniquement en espèces à l'entrée des événements.
Les réservations sont closes pour cet événement.