dimanche 24 Oct. 2021 - 18h30
Atelier Marcel Hastir (étage 2)
Programme:
G.F. Haendel – sonate pour violon et piano op.1 No.4
J. Brahms – sonate pour violon et piano No.3 op. 108
Albéniz – Jerez ( arrangement pour violon et piano)
S. Prokofiev – sonate pour violon et piano en fa mineur op.80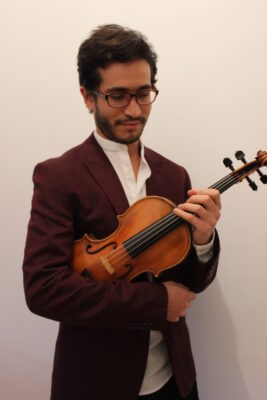 Nidhal Jebali – violon :
Born in Tunisia in 1990, violinist and composer Nidhal Jebali has walked a distinctive path of independence and artistry. He began at age six in his native city of Tunis with studies in classical music as well as traditional Tunisian music, making his debut as a soloist just two years later with a performance of the Vivaldi violin Concerto in A minor. He began to compose on his own at age eight, and by the time he was twelve he had received his National Diploma of Music, and had presented his first full solo recital.
This marked a turning point in his education, as he then left the conservatory and embarked on an unusual course of self-directed study on the violin. He went to the United States, for the first time, in the summer of 2006, as a student at the Indiana University Summer String Academy returning to that program for three years as a student of Mimi Zweig. Upon graduating from High School in 2009, he moved to the US and now holds both a Bachelor and a Master degree from Indiana University Jacobs School of Music where he studied violin with Mimi Zweig and Mark Kaplan, and composition with Don Freund, Claude Baker and Sven-David Sandstrom.
Nidhal is an active performer and has performed recitals and concertos in many different venues throughout Tunisia, Spain USA and Argentina.
As an orchestral player, he worked as the concertmaster of the San Juan Symphony Orchestra in Argentina from 2015 to 2019.
As a composer, he writes regularly and his work has now extended to include various settings: solo, chamber music and orchestral works.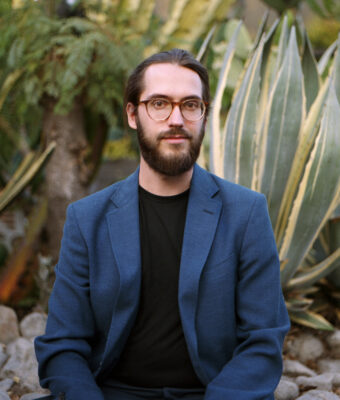 Isaac Friedhoff – piano :
Isaac Friedhoff was born in Barcelona to a family of musicians. Growing up he was immersed in chamber music, playing both piano and cello with his siblings, parents and grandparents. Soon after deciding to focus solely on piano, he won prizes in several international competitions in Spain, including 1st prize in the International Competition "Ciutat de Carlet" (València, Spain).
Since then, he has performed extensively as a soloist, recitalist and collaborative pianist in Europe, United States, China and South America, appearing in halls like the Mondavi Center for the Arts in Davis (California) and the Palau de la Música Catalana in his hometown of Barcelona (Spain).
Mr. Friedhoff's focus on the piano repertoire of his home country has led him to present numerous recitals and lectures on Spanish and Catalan music throughout the United States. His most recent tour of music by Albéniz and Mompou included a live broadcast noon concert at the Ann E. Pitzer Center (Davis, California), a lecture recital at the Brain and Creativity Institute (Los Angeles), and a recital and public masterclass at Classic Pianos (Portland, Oregon).
As a soloist he has appeared with the Vancouver Symphony Orchestra (Washington, USA) under the baton of Salvador Brotons, as well as with the UCDavis Symphony under Christian Baldini. As a collaborative pianist, he has participated in masterclasses and coachings by the London Haydn String Quartet, Pamela Frank, Midori Goto, Glenn Dicterow, Christian Tetzlaff, Janos Starker and Mark Kaplan.
Mr. Friedhoff was invited as a faculty member to the 2019 Beijing Summer Music Festival, where he taught and performed both classical and jazz music. He is also a co-founder of the SoCal International Piano Competition and the 23rd Street Piano Festival in Los Angeles. His transcriptions and recordings of Puccini arias have appeared in the soundtrack of the American film "House of Last Things", and his chamber music concerts have been broadcasted by Catalunya Música Radio.
He is a graduate of Indiana University, where he completed his Bachelors, and University of Southern California, where he received his Masters and Doctoral degree in Piano Performance. During his studies in the US, his main mentors were Antoinette Perry, Émile Naoumoff and Edward Auer. He has also performed in masterclasses by John Perry and Jonathan Biss, as well as in private coachings with Gabriel Kwok, Manchun Chen.
Prior to his college years, he studied at L'Escola de Música de Barcelona, with Albert Attenelle and Maria LLuisa Reñaga, learning the tradition of piano playing handed down by Frank Marshall and Enric Granados.
He is currently based in Istanbul (Turkey) as a freelance pianist, music educator and entrepreneur.
http://www.isaacfriedhoff.com/
Réservations obligatoires ci-après – Entrée: 15 € – 8 € (étudiants et enfants de moins de 12 ans)
Covid Safe Ticket obligatoire!
Réservations
Les paiements s'effectuent uniquement en espèces à l'entrée des événements.
Les réservations sont closes pour cet événement.