vendredi 25 Mai. 2018 - 20h00
Atelier Marcel Hastir (étage 2)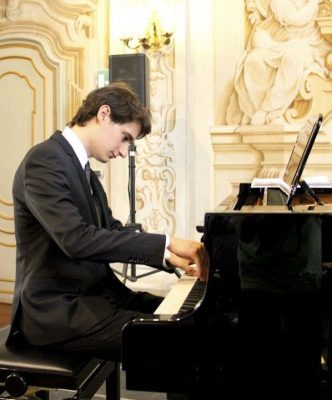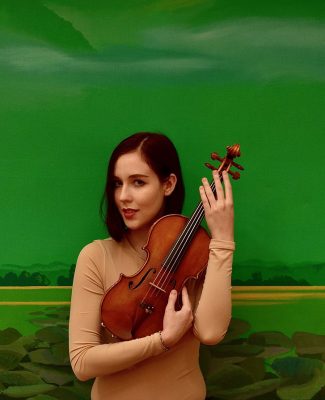 Carlo Prampolini Ana Julija Mlejnik
Au programme
Maurice Ravel: Tzigane
Antonin Dvorak: Sonatina – Allegro risoluto, Larghetto, Scherzo, Finale
***
César Franck: Sonata in A major for Violin and Piano
Ana Julija Mlejnik is a native of the picturesque, ancient town of Škofja Loka, an area that contributed a large number of important Slovenian cultural personalities. She inherited her love of music from her musical family. She started learning violin in her hometown and then continued her studies in the class of prof. Tatjana Špragar in Ljubljana. She finished Musical Highschool and Classical Gimnasyium. Ana Julija proceeded to advanced studies with prof. Gorjan Košuta at the Academy of Music in Ljubljana, and followed many master courses. In 2013 she finished her bachelor diploma with the highest grades. Afterwards she continued to study for her masters diploma at the Royal Conservatory of Brussels under the guidance of world-famous violinist – and winner of Queen Elisabeth's competition – Yuzuko Horigome. In 2016 she graduated with a great distinction. She continues to study for a concert musician in the class of Horigome as a postgraduate student.
Ana Julija also took a great interest in baroque music. Currently she studies as a bachelor student of baroque violin in the class of prof. Ryo Terakado and is a member of London Brandenburg Soloists ensemble. – Besides that she took advice from many other famous professors: R. Friend, I. Ozim, J. Fisher, G. Pauk, S. Kim, C. Forough, S. Ryu, S. Shipps, V. Szabadi, K. Yon, J. Talich, S. Ashkenasi. – Ana Julija won first prize at the Genova international competition and third prize at the international competition Ithaka in 2007. In 2009 she won third prize in a Slovenian music competition in Temsig.
She appears frequently on the concert stage as a soloist. In 2008 she performed at Queen's Elizabeth's visit of Slovenija in the Slovenian Philharmony with the Slovenian brass orchestra. In 2011 she performed Vieuxtemps Concerto no. 5 with the Slovenian Opera orchestra in Slovenian Philharmony. In 2016 she had her London debut, playing Bach double violin concerto with orchestra at the Blackheath festival. In December 2016 she performed Brahms violin concerto with George Pehlivanian and the Slovenian Philharmony orchestra in Ljubljan.
Carlo Prampolini was born in Trento (Italy) in 1991. After 12 years of musical studies in Italy he was admitted in Aleksandar Madzar's class in Koninklijk Conservatorium Brussel, where he obtained his master cum laude in piano performance in 2015. He won first prize in many piano competitions such as "Città di Piove di Sacco", "Città di Meda", "Città di Cesenatico" and "Val di Sole" and followed masterclasses with renowned pianists, including Aldo Ciccolini, Filippo Gamba, Eulalia Solè, Ya-Fei Chuang and Robert Levin.
Developing a deep interest in the contemporary repertoire, in 2015 he performs in several Ensemble pieces conducted by Marco Angius, Tonino Battista, Vittorio Parisi and Fabio Maestri in Spoleto, Italy. Together with G.A.M.E. Ensemble, in 2016 he premieres works from Jelle Tassyns, Gillis Sacré and Mirek Coutigny in EAM Festival in Gent, as well as works from Rama Gottfried and Natacha Diels in SPOR Festival in Aarhus, Denmark; in the same year he premieres Ricercare per pianoforte from Marco Quagliarini. In 2016 and 2017 he performs with Spectra Ensemble in Bruges, with Ictus Ensemble in Athens and multiple times with Zahir Ensemble in Sevilla.
In his activity he likes to work closely with composers and in 2017 he plays four recitals titled The heritage and the transmission in Roma, Turin, Alba and Bruxelles in collaboration with Villa of Composers and Forum des Compositeurs.
Réservations : ci-après – Entrée: 15 € – Billet « students, jobless… » 10 € – 6 € enfants de moins de 12 ans)
Après le concert le verre de l'amitié vous sera offert, en compagnie des artistes
Réservations
Les paiements s'effectuent uniquement en espèces à l'entrée des événements.
Les réservations sont closes pour cet événement.