samedi 03 Déc. 2022 - 20h00
Atelier Marcel Hastir (étage 2)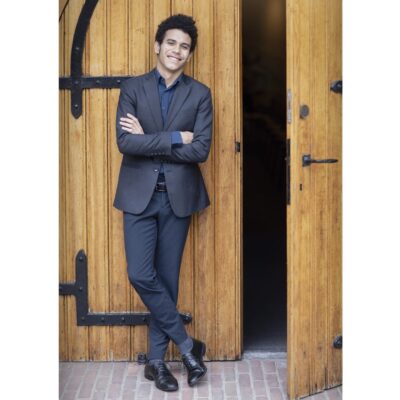 L. V. Beethoven – Sonate No. 31 Op.110
F. Chopin – Scherzo No.2 Op 31
E. Granados – de ¨Goyescas¨ : Los requiebros
Pause
E. Granados – ¨Goyescas¨: El amor y la muerte.
S. Prokofiev – Sonata No.7 Op.83
Manuel Sanguino (29-11-1998) was born in the Dominican Republic and has the Spanish nationality.
He
is the only musician in his family.
In 2010 the Danilo Perez foundation awarded him with a scholarship and concerts,
he also received
masterclasses at the Panama jazz festival.
The next year he moved to the Netherlands and participated at the Perpetuum Mobile competition,
organized by the young talent academy of the St Petersburg conservatory, winning the 1st prize.
In 2011 and 2012 he participated at the Musik Zentral festival in Austria, playing Beethoven's 1st and
Chopin's 2nd piano concerto with the Morphing chamber orchestra of Vienna.
Manuel has won the first prize and audience award at the national final of the Prinses Christina
competition in The Hague, the most prestigious competition in the Netherlands. He won twice first
prizes at regional competition as well.
Manuel was also finalist of the Young Musician of the Year (the preliminary round of the Eurovision
young musicians' competition in Cologne), which was broadcasted on national TV.
In 2013 he started receiving lessons from the Russian teacher Mila Baslawskaja
On June 2015 Manuel played Saint Saens Carnaval des Animaux with Sweelinck academy students and
musicians from the Concertgebouw orchestra. That summer he received masterclasses from renowned
pianists during the summer masterclasses at the Imola international piano academy.
In 2016 Manuel had a small tour with the Rubens Consort (the former Rubens string quartet) performing
Dvorak Piano quintet no.2 in renowned halls like the Muziekgebouw aan t IJ (Amsterdam) and Tivoli
Vredenburg (Utrecht).
Manuel has received masterclasses from renowned pianist such as Jan Wijn, Igor Roma, Jorge Luis Prats,
Leif Ove Andsnes, Boris Petrushansky, Enrico Pace, Artur Pizarro, Paul Badura Skoda, Boris Berman and
Michel Beroff.
Manuel often gives recitals and appears on the radio. He has performed with orchestras such as the
Dutch chamber orchestra, Netherlands symphony orchestra, The Hague Phillarmonic and Sinfonia
Rotterdam, among others, and has played in big halls like the Concertgebouw, Dr. Anton Philipszaal,
Schouwburg Almere, Vereeniging Nijmegen, De Spiegel Zwolle, Zuiderstrandtheater, Tivoli Vrendenburg
and Muziekgebouw aan 't IJ.
In September 2016 Manuel began to study at the conservatory of Amsterdam with piano teacher Jan
Wijn and in 2018 he began studying at the Universitat Mozarteum.
Manuel has also experience performing contemporary music, in 2018 he performed the world premiere
of the Piano quartet of the acclaimed Swiss composer Gerard Zinsstag, in a collaboration with the
Mozarteum university and Mozarteum's Institut Neue music.
https://youtu.be/-KtkXYhyy0c
Après le concert le verre de l'amitié vous sera offert, en compagnie des artistes
Réservations obligatoires ci-après – Entrée: 15 € – 10 € (étudiants et enfants de moins de 12 ans)
Réservations
Les paiements s'effectuent uniquement en espèces à l'entrée des événements.
Les réservations sont closes pour cet événement.