samedi 08 Juin. 2019 - 20h00
Atelier Marcel Hastir (étage 2)
Programme
Partita n°2 – J.S. Bach
Prelude in B minor – Bach/ Siloti
Sonata in B minor – Franz Liszt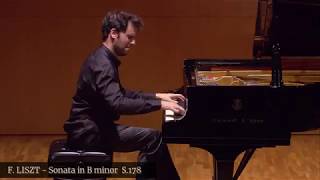 Jose Antonio Candel
Passion, lyricism and sincerity are the three main characteristics that reflect the personality of Jose Antonio Candel at the piano. Its connection to the instrument and
the enthusiasm and intensity with which he approaches music fills his performance with a transcendental virtuosity that deeply touches the audience.
Native from Murcia, the young pianist finished his Professional Degree with prof. Miguel Luis Losada, obtaining an honor degree and an extraordinary prize.
Afterwards, he completed the Bachelor Degree with prof. Pilar Valero, receiving an honor degree for each course, as well as for the Graduation Concert.
At the same time, he studied with Aquiles Delle Vigne at the Schola Cantorum in Paris. During this period he was awarded the following prizes
prestigious competitions such as:
➢Third prize in the III National Competition of Pianistic Interpretation « Santo Domingo » (2006, Alicante).
➢First prize in the regional phase of the VI National Interpretation Contest « Intercentros Melómano » and representative of the community of Murcia in Madrid (2008).
➢Special prize for the best performance of Spanish Music in the VIII International Competition « Ciudad de El Ejido » (Almería, 2008).
➢First prize at the IX edition of the « Entre cuerdas y Metales » competition in Cartagena (Murcia, 2008).
➢First prize in the 1st edition of the « Villa de Molina » Young Performers Competition (medium grade category), (Murcia, 2008).
➢Special prize for the best performance of Spanish Music in the XXI Edition of the National Youth Competition Performers  » Ruperto Chapí  » (2009.Alicante).
➢Second prize in the « Ciudad de Murcia 2009 » competition.
➢First prize in the II Edition of the « Villa de Molina » Young Performers Contest (Higher Grade category), (Murcia, 2010).
➢Prize « Abyla » for the best performer of Spanish music in the « Ciudad de Ceuta » National Competition (2010)
Later, he moved to Berlin, where he continued his studies at the Hochschule für Musik « Hanns Eisler » with the eminent pianist Fabio Bidini, obtaining the most prestigious awards. He has expanded his training with musicians such as Claudio Martinez Mehner, Boyan Vodernitcharov, Jean Claude Vanden Eynden, Evelyne
Branckart, Rolland Pröll, , Peter Feutchwanger, Konstance Eickhorst, Olivier Gardon, Agathe Leimoni, Von Arnim, Imre Rohmann, Enmanuel Krasowsky, Michael
Wladkovsky, among others.
His concert activity is carried out in Spain, France, Belgium, Portugal, Germany, England, Italy and Nigeria, highlitling his participation in International Festivals such as « Sic itur in astra » in Torre in Pietra (Rome), the « Midsummer Festival » in Berlin, the « Flamenco Festival » in the Cervantes Theater in London, as well as his performances of Albéniz's "Suite Iberia" at the Muson Center in Lagos (Nigeria). – He has been a soloist with the Chamber Orchestra of Cartagena, Murcia's
Symphony Orchestra and the Elche Symphony Orchestra with great critical and public success, emphasizing the interpretation of the Mozart's KV 271 concerts
and Chopin's Concert No. 1 Op 11.
He has participated in the recording of a CD in commemoration of the 200th anniversary of Chopin's birth in collaboration with the Polish Embassy, as well as in the disc-book commemorating the 10th anniversary of the Concert Series of Young Soloists playing Albéniz. – At present, he combines his intense concert activity with his teaching work, he is a full professor at the "Narciso Yepes" Conservatory in Murcia, and recently taught masterclasses about Spanish music in Nigeria.
For the next season, a new CD playing Chopin will be released.
Réservations : ci-après – Entrée: 15 € – 7 € (enfants de moins de 12 ans)
Après le concert le verre de l'amitié vous sera offert, en compagnie des artistes
Réservations