samedi 08 Fév. 2020 - 20h00
Atelier Marcel Hastir (étage 2)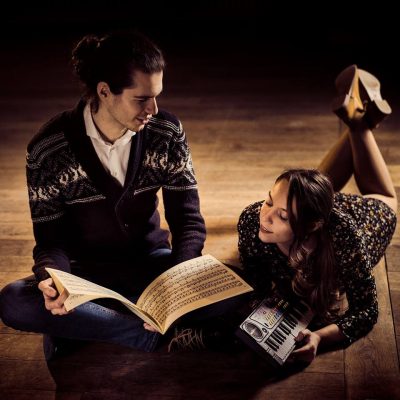 Elisabeth Crommelynck et Sander Meersmans, piano
SONATA OF A DAY
From Morgenstimmung to Berceuse, and everything in between. Works of E. Grieg, J. Brahms, W.A. Mozart…
Curriculum: Elisabeth Crommelynck (°1990) and Sander Meersmans (°1992) first met at the Royal Conservatoire of Antwerp where they studied piano with Levente Kende and Heidi Hendrickx. In 2015 they both earned their master's degree in music, magna cum laude.
​Their warm friendship and shared passion for the piano duet repertoire brought them together as 'Pianoduo Symbiosis'. Since June 2016, they are exploring the wonderful world of piano music for 4 hands. This resulted in a series of concerts throughout Belgium and The Netherlands with their performance 'Europiano'. In January 2017, they enrolled in the chamber music course of the Orpheus Institute in Ghent (BE). There they have masterclasses with well-known chamber music teachers like Piet Kuijken, France Springuel, Paul De Clerck… In November of the same year, the duo has opened the music festival 'Bruxelles Sur Scènes' with the première of their second performance 'Fiesta Slavonica'
Since july 2018 the duo is following lessons with the dutch pianist Frank Peters.
Next to their performing activities, both pianists are also working at 'de Academies' in Antwerp: Elisabeth is a piano teacher in Deurne and Sander teaches piano and piano atelier in Borgerhout.
Bookings : contact@pianoduosymbiosis.com
Sander: +32 479 23 01 38 – Elisabeth: +32 499 19 73 72
Entry: 12 € – 6 € (chidren under 12 years of age)