samedi 14 Sep. 2019 - 20h00
Atelier Marcel Hastir (étage 2)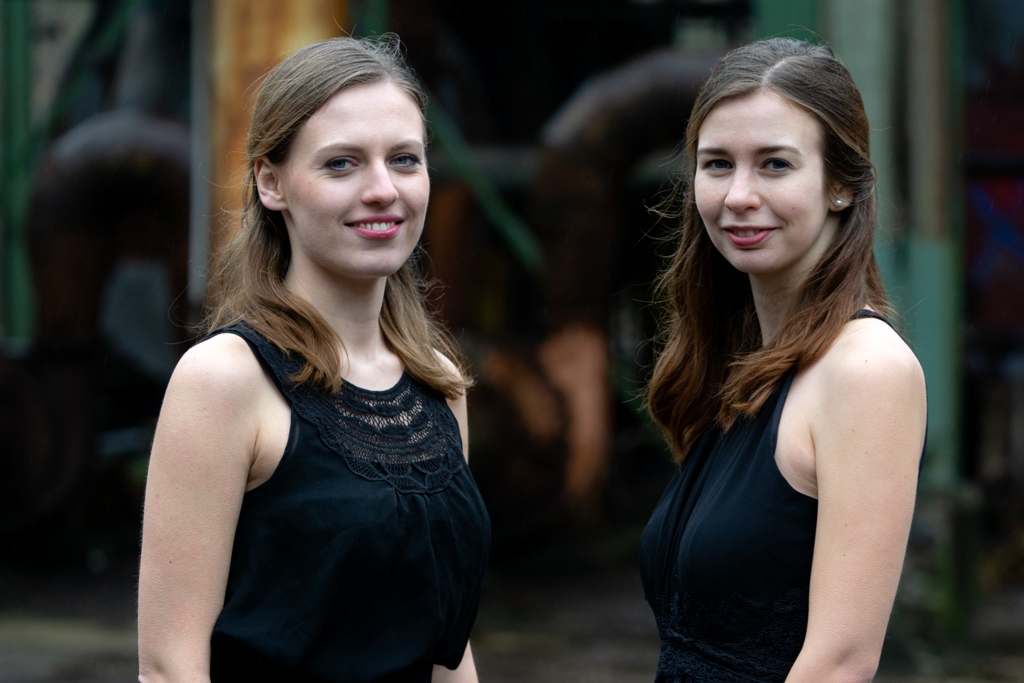 Zane Rubesa – piano & Rebecca Blau – flûte
Au programme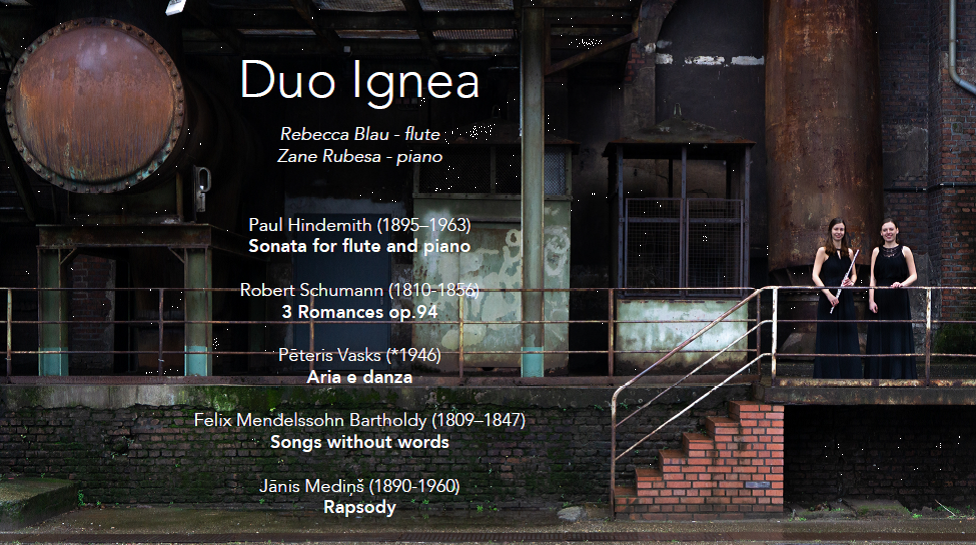 Recordings :
R.Schumann Romance: https://youtu.be/zZscn5Wd_ZQ
P.Vasks https://www.youtube.com/watch?v=FhJ4uXn2d24&feature=youtu.be&fbclid=IwAR09kbL5ziGMs7XFDpZeCwcQPKo8cQ0j23IKBv0uMXYkYGQBCeGIFNKSUt0
Rebecca Blau (Germany) started her musical education at an early age. She visited the music school in Suhl and attended the special music class at the Goethe – Gymnasium/Rutheneum in Gera. Since 2015 she studies flute at the Robert Schumann Hochschule Düsseldorf in the class of Prof. Evelin Degen. In the year 2017/2018 she took part in the Erasmus student exchange program at the Royal Conservatory Brussels and the Pôle d'Enseignement Supérieur Bordeaux Aquitaine. Rebecca has enriched her skills in masterclasses under guidance of Felix Renggli, Julien Beaudiment, Michael Faust, Eva Furrer, and Carin Levine among others.
As a soloist Rebecca has performed with the Philharmonie Gera – Altenburg, the Landesjugendorchester Thüringen and the Collegium Musicum Greiz.
Rebecca is interested in contemporary music and is a member of various chamber music groups. In 2018 she performed with Ensemble Tempus Loquendì at the Beijing Modern Music Festival in China and gave masterclasses in Beijing and Henan. She also took part in the Impuls Festival in Graz and in the Järvi academy of the Pärnu Music Festival.
Zane Rubesa (Latvia) started playing piano at the age of seven. She has studied in Jelgava Secondary Music school and continued her education at the Jāzeps Vītols Latvian Academy of Music in the class of Arnis Zandmanis, where she has pursuited her Bachelor and Master degree in Piano Performance.
Beside her studies, Zane has been a participant of numerous masterclasses with such musicians
as D.Bashkirov, A. Kouyoumdjian, L.Zilberstein, D.Yoffe among others. She has taken part in the Debussy Festival (Belgium, 2018), Belgian Music Days (Belgium, 2018), Aurora Winter Festival (Sweden, 2016), Eastern Music Festival and summer school (USA, 2010).
Zane is also active as a chamber musician. Since 2015 she is a member of the trio Metamorfoze, collaborating with latvian flutists Liene Dobičina and Zane Jurēvica. They have been giving concerts in Latvia, Germany, Belgium, Slovenia and Italy, including Mantova Music Festival (2018). The trio has won the 3rd prize in the International Friedrich Kuhlau Flute competition in Germany (2017) and is the first prize winner of the International Music competition and festival Svirel in Slovenia (2018).
Zane was an accompanist at the Jāzeps Vītols academy of Music from 2016 to 2017 and due to an Erasmus internship at the Royal Conservatory Brussels from October 2017.
Réservations ci-après – Entrée: 15 € – 7 € (enfants de moins de 12 ans)
Après le concert le verre de l'amitié vous sera offert, en compagnie des artistes
Réservations
Les réservations sont closes pour cet événement.
Les paiements s'effectuent uniquement en espèces à l'entrée des événements.